Here are our easy pasta recipes which are easy to prepare and economical for the family budget. While some may appear fiddly, like lasagna and cannelloni, once you master making the bechamel or white sauce, it becomes a simple and easy process.
Now, for our Easy Lasagna Recipe

This is an easy lasagna recipe. If I can make it with the family coming back for seconds, then I'm sure anyone can make it even better.
Lasagna is essentially bolognaise sauce with flat pasta sheets layered and a white sauce, called bechamel sauce poured over and baked.
This dish is ideal for freezing.
The proportions here are for two dishes of lasagna so that you can freeze one.
Easy Lasagna Recipe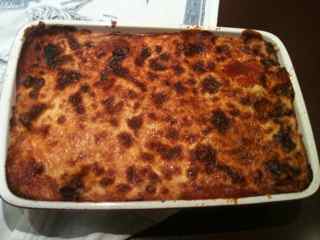 This recipe makes enough for 14 generous servings of lasagna.
Just Add
Make Bolognaise Sauce
• 1 kg premium beef mince

• 4 carrots diced

• 1 large onion, diced

• 1/4 cup red wine vinegar

• 4 tspn sugar

• 6 tspn plain flour



• Fry onions then add mince.

• Cook for 10 minutes.

• Add carrots, vinegar and sugar, cook for a couple of minutes.

• Add flour, mix in well and stir till it thickens a little.



• 700 ml passata

• 2 x 400gm cans of diced tomatoes

• 2 stock cubes


• Add the remaining ingredients.

• Cook for 15 minutes.

• Add salt, pepper, sugar as necessary to suit your taste.

• Leave this in the pot while you make the white/bechamel sauce.



Just Add
Make Bechamel Sauce
• 100 gm butter

• 2 heaped tblspn plain flour

• 6 cups milk



• Melt butter on low to moderate heat.

• Add flour, cook for a couple of minutes. It clumps together.

• Pour in the milk all at once.

• Keep stirring till there are no lumps and the sauce thickens. This will take about 13 - 15 minutes. It's important that the milk does not boil.



Assemble Lasagne
• 2 lasagne or rectangular oven dishes

• 12 instant lasagne sheets (They come in a box)

• 500 gm shredded tasty cheese

• 1 cup shredded parmesan cheese



• Turn oven on to 190C.

• Put in one layer of sauce into lasagna dishes.

• Add three dry instant lasagna sheets straight from the box.

• Put in a layer of sauce, then tasty cheese.

• Do this one more time - one layer of lasagna sheets, followed by a layer of sauce, then tasty cheese.

• Pour the white/bechamel sauce over the top. There will be enough for a generous amount of sauce

• Sprinkle the top with parmesan cheese.



Cook
• Cook for 35 minutes till the top is nicely brown.

• Leave to rest for 10 minutes.


Serve hot.
The lasagne is superb with a crisp green salad and crusty bread.
Tips for this easy lasagna recipe

I include carrots in the sauce to give it extra texture and body.
If you don't have a lasagna dish, use a rectangular oven proof dish with deep sides.
Don't overfill the dish as otherwise the bubbling over will mess up your oven.
Put the dry lasagna sheets, straight from the box into the dish. You don't have to pre-cook it.
Bechamel sauce sounds scary, but it is really easy to make.
~~~~~~~~
This is a no fuss, easy lasagna recipe. Just make the sauce in a pot with tinned tomatoes and purchased passata. You'll make this in no time at all. The white sauce takes about 15 minutes to make and that is the fussiest part as you do have to constantly stir it. But the assembly is straight forward. It's just layering of the pasta, sauce and cheese.
This is yet another recipe where your family and friends will come back asking for more!



Wishing you happy cooking!
---
Top of Page Index of Easy Pasta Recipes
Easy Lasagna



Go To: Easy Pasta Recipes