Recipe Pumpkin Pie
In this last stage of the tutorial for this recipe

Pumpkin pie Without A Crust
the cream cheese batter is baked with the loose crumb base you made in the first step of this recipe.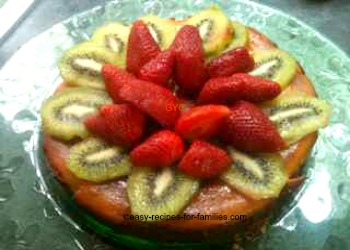 For the start of the tutorial and the full pie recipe, click here.
For the previous part of this pie tutorial where you made the pumpkin cream cheese cake batter, click here.
Final Steps For This Easy Recipe
Pumpkin Pie Without A Crust
For this stage, you'll require: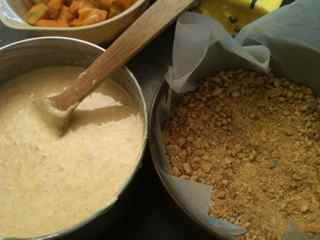 Step 1: Fill
Pour the batter onto the crumbs.
And now it's ready for baking.
Your fresh pumpkin pie is done. Now, place it in the lower middle of the preheated oven and bake for an hour.
Now isn't this just gorgeous!
Test if it is cooked with a cake tester or skewer. Skewer it gently in the middle and when it comes out clean, it's cooked.
Plate Beautifully
Allow to cool completely in the pan then release the lever to loosen the pan walls.
Remove the wall.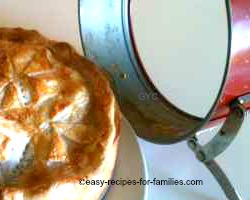 Remove the crustless pie by lifting the baking paper off the base and placing it on your lovely serving platter.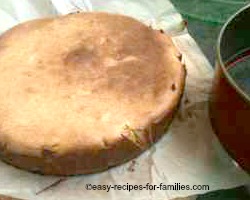 Slide it off the paper and plate this lovely crustless pie.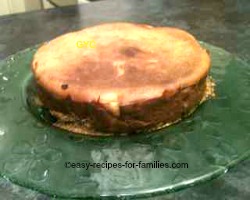 Decorate the crustless pie with strawberries and kiwi fruit ONLY when you are about to serve this luscious dessert.
This recipe for a crustless pumpkin pie, is a really lovely dessert which is simply just delicious and looks absolutely sensational.
This goes perfectly with...
We enjoyed this very simple to make dessert for a luncheon at home with 10 guests. This crustless cheesecake received a "WOW!" on serving, yet I made it ever so quickly the day before. One of the appetizers served before the lunch was another of our super easy recipes,
Pumpkin Tapenade"
Another one, that's so easy to do, it's embarrassing!
---
Leave This Recipe
Pumpkin Pie Without A Crust
and discover hundreds of scrumptious super easy dessert recipes that are mouth watering but oh so easy to prepare.