Pumpkin Appetizer

Make this delicious pumpkin appetizer for your dinner party. It's one of our pumpkin recipes that's incredibly easy.

Here it is, served with crackers as a tasty pass-around appetizer.


There's nothing like easy recipes for sensational dishes prepared well prior to a entertaining.
Rating:
Very Easy
Hands-On Time:
10 minutes
Hands-Off Time:
0 minutes
Ingredients:
9
Steps:
2
Simple To Prepare Pumpkin Recipes
Pumpkin Appetizer Ingredients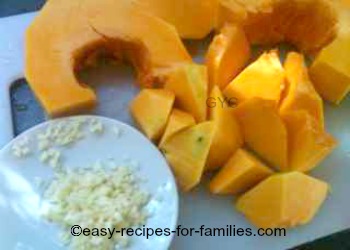 Equipment: Small frypan
Oil
Garlic, finely chopped
Pureed pumpkin
Sour Cream
Mayonnaise
Salt, pepper
Cumin seeds
Chives or spring onions, finely diced
2 Steps To A Tasty Easy Pumpkin Appetizer
Heat the oil in the little frypan or skillet till it is slightly smoking then add in all the diced garlic.
Fry for a couple of minutes till fragrant and golden brown.
Turn down the heat to medium and add all the pumpkin and finely chopped chives or spring onions.
Combine the garlic and pumpkin.
Step 2:
Add in the sour cream, mayonnaise, seasoning and spices.
Combine till it becomes a smooth mixture. Take it off the heat as soon as the mixture become soft. The heat is just to help the mixture combine easily and is not meant to cook the mixture.
Combine till smooth.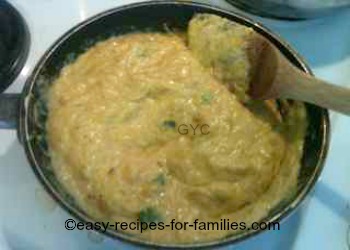 Store in a sealed container in the refrigerator till it's ready to be used.
To serve, spoon the appetizer - Tapenade into a little bowl and serve with crackers.
This quantity makes for two bowls of dip.
This Appetizer Goes Perfectly With...
We enjoyed this tasty, simple to make appetizer at a luncheon at home for 14. This dip is ideal for parties as it can be made the day prior and serves beautifully.
For the next course for lunch, after this tasty appetizer, our guests enjoyed a rich, thick, delicious
pumpkin soup with red lentils and garlic
.
Pumpkin Tapenade
One of our Very Simple Pumpkin Recipes
This recipe makes 1 1/2 cups of Tapenade, enough for 2 small bowls of dip to go with crackers.
Just Add
Prepare
• 2 cloves garlic, diced very finely

• 1/2 tbs good quality vegetable oil

• 1 1/2 cups cooked pumpkin or 1 cup pureed pumpkin

• 3 heaped tbs sour cream

• 4 heaped tbs mayonnaise

• 1 tbs finely chopped chives or spring onions

• salt, pepper to your taste

• 1 ts cumin seeds




• In a little frypan on high, heat the oil. When the oil is hot toss in the finely diced garlic pieces. Fry till fragrant and turn off the heat

• Add in the pureed pumpkin and sour cream to the little frypan and continue to combine together

• Add the seasoning and taste test, adding more salt and/or pepper and spices as suits your taste

• Combine till smooth and either serve immediately with crackers, or store in the refrigerator till required
Serve the tapenade as an appetizer with crackers.
Tips
If you're cooking fresh pumpkin, be sure to stew the pumpkin in salted water. This fruit just sucks up surrounding flavors and is even more delicious when salted for savory recipes.
For this easy appetizer recipe, stew fresh pumpkin till it is very tender. When it is mixed with the sour cream, the pumpkin fibers are so soft that it blends in smoothly.
1/2 pound or 500 grams of trimmed pumpkin yields about 1 cup of pureed pumpkin.
---
Leave Pumpkin Appetizer to discover loads of delicious easy recipes to prepare ahead of time for your dinner party.