Pumpkin Cake

Looking for a pumpkin cake that is so incredibly easy and yet sensationally delicious? As far as easy recipes go, this has to be up there as one of the best - this cake is so simple to prepare, it's a "throw it all in the pot" type of cooking!

...and it looks divine and tastes dee-lee-shus!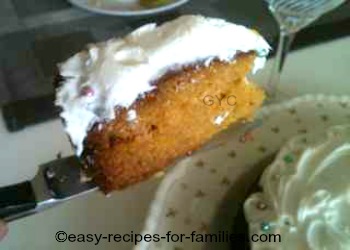 Rating:
Easy
Hands-On Time:
10 minutes
Hands-Off Time:
50 minutes
Ingredients:
9
Steps:
3
Shh...The fussiest part of this recipe is decorating it...and I got the kids to do that!
Just follow the super easy steps below or if you're a novice to baking, click on the "Learn How" buttons to take you to the detailed tutorial where you can see exactly what each step looks like.
Easy Pumpkin Recipes
Cake Ingredients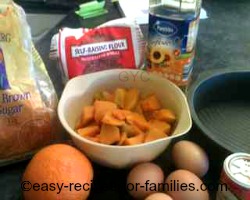 Equipment: Non-stick 9" round cake "tin"
Flour
Oil
Pumpkin
Brown sugar
Eggs
Orange
Baking soda
Cinnamon and nutmeg
3 Steps To A Divinely Easy Pumpkin Cake
Place all the ingredients in a roomy bowl or pot - Start with all the dry ingredients then the liquid ones. Combine till it is a smooth batter.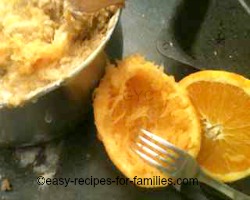 Step 2:
Here it is, the batter is ready for baking.
Place it in the lower center of a pre-heated oven and bake for 50 minutes.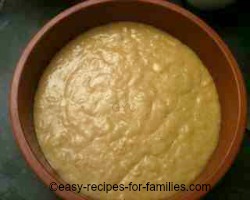 Step 3:
When the cake is completely cooled, decorate to your liking.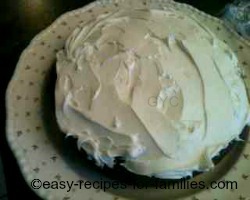 This Cake Goes Perfectly With...
This incredibly easy cake was made for a birthday celebration and we had 10 visitors over for lunch. We enjoyed this cake with coffee after two lovely desserts from our collection our super easy pumpkin recipes -
crustless pumpkin pie
and
pumpkin crumble
.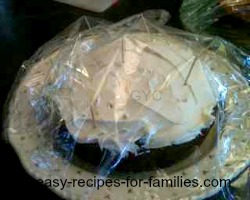 This recipe makes 1 cake.
Just Add
Prepare
• 1 1/3 cups pumpkin, cooked till very tender

• 2 cups self raising flour

• 1 heaped ts baking soda

• 1 1/2 cups brown sugar

• 1 cup vegetable oil

• 4 eggs, beaten

• zest from one orange

• juice from one orange

• 1/2 ts cinnamon

• 1/2 ts nutmeg




• Preheat oven to 350F/180C

• Place all the ingredients in a roomy mixing bowl and combine, as in the photo

• Stir till the batter is a smooth mixture without lumps

• Bake in the lower center of the oven for 50 minutes

• The pumpkin cake is cooked when the skewer comes out clean

• Allow to rest and cool completely before decorating with frosting or cream



We enjoyed this cake at a birthday celebration at home with 14 of us around the happy table for lunch. The children love participating in entertaining and they decorated this cake for the birthday, as below.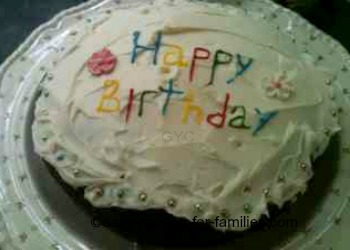 Tips
These days, cake baking is so much simpler with silicone and non-stick baking pans. If you're not using these, be sure to line and grease your baking tins.
If you're cooking fresh pumpkin, be sure to stew the pumpkin in sugared water. Pumpkin just sucks up surrounding flavors and is even more delicious in the cake.
For this cake recipe, stew fresh pumpkin till it is very tender. When it is mixed with the batter, the fibers are so soft that it blends in smoothly.
---
Leave Pumpkin Cake and discover our delicious and incredibly easy pumpkin recipes.