Crustless Pumpkin Pie
This incredibly simple to make crustless pumpkin pie is the easiest cheesecake ever! As far as easy recipes are concerned, this is IT!

Look at this - it's sensational! If you're looking for easy pumpkin recipes or easy dessert recipes, don't go past this crustless baked treat.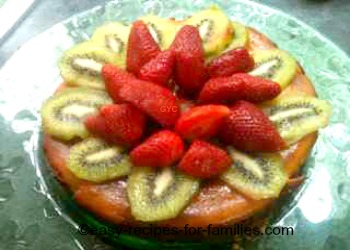 Rating:
Easy
Hands-On Time:
20 minutes
Hands-Off Time:
60 minutes
Ingredients:
9
Steps:
3
The most difficult part of this crustless pie is decorating it!
Ingredients for a Crustless Pumpkin Pie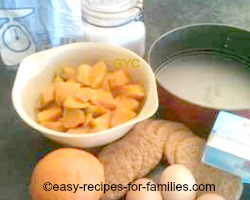 Equipment: Springform Pan
Graham Crackers or Digestive/Shredded Wheat Crackers
Pumpkin
Sugar
Cream cheese
Eggs
Plain flour
Zest from orange
Cinnamon and nutmeg
3 Steps To A Delicious Easy Crustless Pumpkin Pie
Step 1:
Crush the crumbs.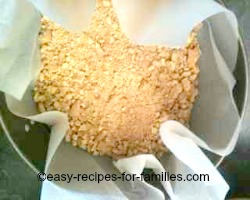 Step 2:
Make The Pumpkin Pie Cake Batter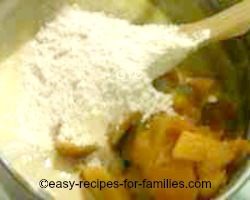 Step 3:
Bake And Decorate
Here we are - the crustless pumpkin cream cheese pie, beautifully baked and ready to be dressed as you wish. In this recipe, we've topped it with fresh fruit.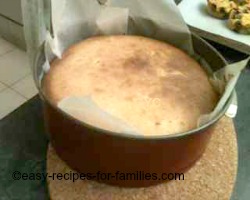 This crustless pie is just sensational plated and tastes delicious!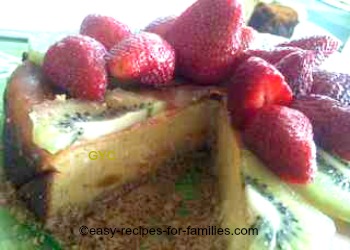 This Pie Goes Perfectly With...
At a recent lunch for 10 visitors at home, our guests enjoyed 3 desserts, all of which came from our easy dessert recipes. One was this pie, which is a super simple luscious crustless baked cheesecake, an
easy pumpkin cake
and an
easy pumpkin crumble
.
This crustless cheesecake makes 6 to 8 servings.

Equipment:

A springform pan
Greaseproof baking paper
A medium sized unused freezer bag
A heavy saucepan




Just Add
Prepare Crustless Pie

• 4 1/2 oz/ 125 gm Graham Crackers or Digestive/Shredded Wheat Biscuits

• 1 pound/500gm cream cheese

• zest from one orange

• 1 1/3 cup mashed pumpkin

• 1 1/2 cups sugar

• 2 heaped tablespoons of plain flour

• 3 eggs, beaten

• 1/4 teaspoon nutmeg

• 1/4 teaspoon cinnamon




• Preheat oven to 315F/160C

• Line the springform pan with a sheet of non-stick baking paper

Make The Crumbs

• Place the crackers or digestive biscuits into a clean plastic bag, ideally unused. Knot it loosely, so that there is sufficient space for the volume to increase when the crackers are crushed

• Use the base of a heavy saucepan to crush the bagged crackers

• Keep crushing, moving the contents around till they are evenly crushed. There's no need to get the crumbs super fine for this simple dessert recipe

• Tip all the crumbs into the lined springform pan. Even out the layer so that it covers the entire base

Make The Cake Batter

• Decant the cream cheese into a saucepan and place it on a medium to hot burner

• Scrape the orange zest from the whole orange over the cream cheese

• Add sugar and pumpkin. Stir the heated mixture to soften it so that it combines easily. Take it off the heat as soon as the mixture starts to soften and combines smoothly

• Add flour, spices then beaten egg

• Combine till it is a smooth batter

• Spoon the batter over the base of crumbs

• Bake for 1 hour. It's ready when the cake tester or skewer comes out clean

• When cool, plate it by firstly releasing the lever from the pan and remove the pan walls. Then lift the sheet of baking paper off the pan base and slide the pie onto a lovely serving platter

• Decorate the crustless chessecake just minutes before serving by topping with fresh fruit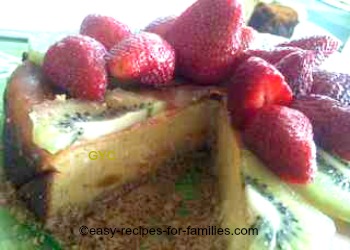 If you wish, serve this crustless cheesecake with whipped cream or ice cream.
Tips
Do not omit the step of lining with non-stick baking paper. The crumbs are just tossed into the base of the pan loose so that there is no crust. As a result, the base is crumbly and it's the cheesecake batter that binds most of the crumbs.
The baking paper is to stop there being a mess of crumbs in the oven and on your kitchen bench.
To make this a healthy dessert, substitute with low fat cream cheese.
---
Leave Crustless Pumpkin Pie and discover loads of luscious easy dessert recipes.