Easy Pumpkin Cake

In this last stage of the tutorial for this sensationally easy pumpkin cake, we'll bake and decorate the cake.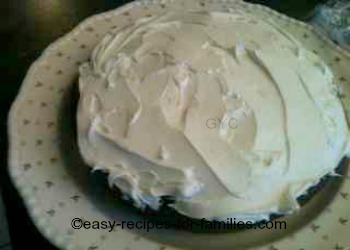 For the start of the tutorial and the full pie recipe, click here.
Final Steps To The Easy Pumpkin Cake
For this stage, you'll require:
Hopefully, the oven has been preheated
Pour the batter into a non-stick baking "tin". I prefer to use silicone bake ware.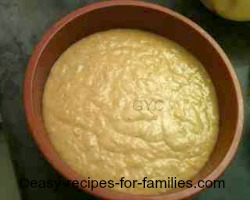 Place it in the lower center of a preheated oven.
It is important that the oven has been preheated so that the air space in the oven is evenly heated.
Here it is, beautifully baked!
Test with a skewer or cake tester. When the skewer comes out clean, it means it is fully cooked internally.
Pull the sides of the silicone baking "tin" to pull the walls away from the baked item.
Then, leave it to cool for about 10 minutes and only then, remove from the baking "tin". Allow to cool on a wire rack.
I remove the cake from the baking "tin" just 10 minutes after it has emerged from the oven, so as to prevent the base from sticking to the baking pan.
Be certain to only frost it after it has completely cooled. This can take an hour or more.
To make this an easy process, I use store-bought vanilla cake frosting. Just spoon a generous amount on top of the cake.
There's no need to be precious about the frosting. What you want to achieve is a thick generous layer of delicious frosting, so heap it on.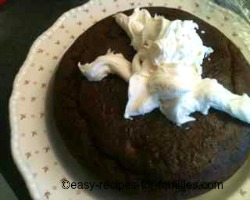 Use a spatula to spread and level out the frosting.
Take care that the spatula does not touch the cake or it'll pick up cake crumbs and ruin the perfect white layer of vanilla frosting.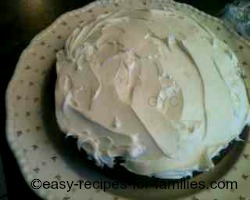 To cover and protect the cake after frosting, use toothpicks as scaffolding around the rim and in the center of the cake. Place the Cling Wrap gently over the toothpicks.
There you are, the cake is covered without the frosting being touched.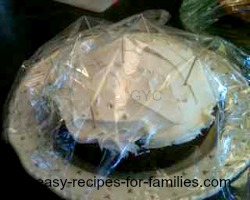 Now isn't this just lovely!
The children then had fun decorating the cake as they desired with gel writing, little sugar balls and sugared flowers.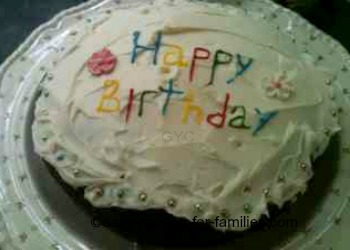 Enjoy!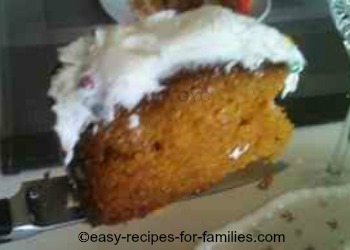 We enjoyed this incredibly easy pumpkin cake as a birthday cake. Truly, the hardest part was decorating it, and even then, the children did that!
This was presented with a lovely "WOW" factor!
This goes perfectly with...
This recipe, like our easy recipes, presents beautifully when plated on lovely dishes. But, honestly, it is embarrassingly easy to do.
I served this at a luncheon for 14, where we hosted 10 guests at home, so I just pulled out my other super easy recipes. This being the pumpkin season, I made a yummy and
incredibly easy appetizer - Pumpkin Tapenade
.
---
Leave Easy Pumpkin Cake and find hundreds of delicious recipes with the homemade touch!