Pumpkin Cake Recepie
On this page for a pumpkin cake recepie, we learn the simple steps of how to make the cake batter. You'll find making this cake, is so simple and that it's one of those easy recipes where you "throw it all in and mix".
This is an extremely simple pumpkin cake recipe. If you'd like the full recipe, please click on the button:
Here's how to make the pumpkin cake batter
Before starting, turn on the oven to preheat, at 350F/180C.
You'll require:
Equipment: a non-stick 9 inch round cake "tin"
1 1/3 cup cooked pumpkin
2 cups self raising flour
1 heaped ts baking soda
1 1/2 cups brown sugar
1 cup vegetable oil
4 eggs, beaten
zest and juice from one orange
1/2 ts cinnamon, nutmeg
Step 1:
To make the cake batter, throw all the ingredients into a roomy mixing bowl. I use a large saucepan.
Start with the dry ingredients, firstly.
Next, add the orange zest and juice.
Using a zester, or a cheese grater, scrape the orange skin over the ingredients. You're after the orange oil glands and not the white pith, which is quite bitter. So, take care in the grating.
After grating the whole orange, cut it in half and juice it. Pour the juice in with the ingredients.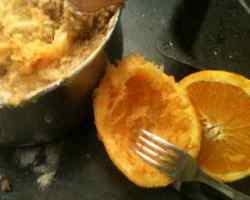 Add the liquid ingredients of the vegetable oil and beaten eggs.
Combine till the mixture is smooth.
It will go from quite lumpy to smooth in a short duration of time. Here it is, a lovely smooth batter
Pour the batter into the silicone baking "tin" and it's now ready for baking.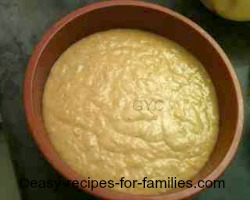 Now, wasn't this recepie easy!
In the next step, we bake the lovely cake and decorate it.
For any easy and simple recepie, it's always best to use the best quality products as there is so little processing and fuss in the cooking, that there's no chance to mask low grade products.
For easy recipes, I recommend using a good quality mild tasting cooking oil such as rice bran oil, which tolerates high temperature cooking.
Please, avoid using animal or saturated fats as much as possible. These fats just add to the problem of ingestion of cholesterol.
---
Leave Pumpkin Cake Recepie to explore our scrumptious, moist yet super easy cake recipes!