Easy Pasta Recipes


Here's our selection of delicious and ever so easy pasta recipes.
Enjoy!
But first if you want the secret on how to cook pasta, spaghetti or lasagna, just click here to go directly to the how to's.

How To Cook Photo Tutorials:

This is one of our fast easy recipes - a 10 Minute Salmon Artichoke and Tomato sauce to go with long flat noodles.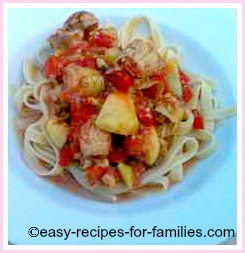 Be sure to start cooking the pasta firstly so that it's done by the time your sauce is warmed through and ready for serving.

10 Minute Pasta Sauce
Salmon Artichoke n Tomato

This recipe serves 4 persons.

Serve with long pasta such as spaghetti or fettucini.

You'll need:
•    1 onion, diced
•    1 tbsp olive oil
•    1 can x 14 oz/400 gm pink salmon
•    4 artichoke hearts, quartered
•    1 can/14 oz/400gm diced tomatoes
•    1 tbsp white wine vinegar
•    2 tsp sugar
•    1 tsp chilli oil (optional) or paprika
Here's how you put it together:
•    Into a moderately hot skillet, fry onion in the olive oil
•    Add in the tin of pink salmon including the juices. Gently break up the salmon with a fork
•    Add in remaining ingredients. Cook for a further 7 minutes
•    Serve immediately with long pasta
Easy Recipes Tips
for Easy Pasta Recipes

When the pasta is freshly cooked and drained, mix through the pasta sauce  gently so that the pasta juices soak into the noodles


Never ever cook the pasta and allow it to sit undrained. It will be come soft and soggy and so awful it will have to be discarded


Pasta generally only takes 15 to 20 minutes to cook, so cook it fresh for the meal


Click here to learn how to cook pasta


Pasta recipes are inexpensive, delicious and quick to make
---