Sensational
Pumpkin Lasagna

The best thing about this pumpkin lasagna is that it is so very moist and tasty. As with all our easy recipes, this is pumpkin lasagne looks sensational, tastes divine and it really is not difficult. In the detailed photo tutorials, we demonstrate how making lasagna can be straight forward.



Rating:
Medium Not Fussy
Hands-On Time:
30 minutes
Hands-Off Time:
35 minutes
Ingredients:
14
Steps:
3 then bake
Ingredients for Pumpkin Lasagna
This recipe gives instructions for each step on how to make pumpkin lasagne. If you are new to cooking please click on the "Learn How" buttons to take you to detailed photo instructions.
Equipment: Large Rectangular Oven-proof Lasagna Tray
12 Instant Lasagna Sheets
Butter
Pumpkin, cooked
Plain Flour
Milk
Ground beef, premium grade
Onion
Carrot
Garlic cloves
Salt, Pepper, Sugar
Soy Sauce
Stock powder
Worcestershire Sauce
Shredded Cheese
3 Steps To A Delicious Pumpkin Lasagna
Step 1:
Make The White or Bechamel Sauce.
This is a very easy process and once you master this, you can use it for all sorts of recipes such as tuna bake, creamy potatoes and cauliflower-au-gratin.
Step 2:
Cook the delicious meat filling.
Get the cooked pumpkin ready. If you'd like to learn how to cook pumpkin, click on the button below.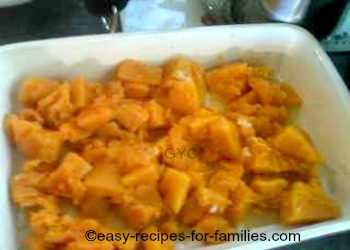 Step 3:
Create the lasagna by layering the bechamel, pasta sheets, pumpkin and meat layers so that you start and end with bechamel.
Finally top with shredded cheese.
Bake for 35 minutes till a lovely golden brown and the cheese melted and crunchy.
Cut a generous slice and enjoy!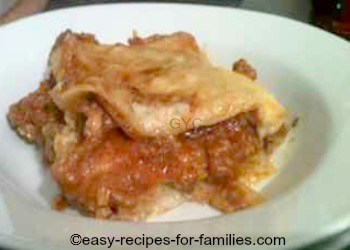 This goes perfectly with...
This sensational pumpkin lasagna made from fresh ingredients is a wholesome meal for dinner, served with freshly cooked greens. For dessert, we enjoyed a
pumpkin pound cake
drizzled over with thick cream. The meal made with these easy recipes, looked absolutely terrific!
This recipe makes 8 generous serves.

Equipment:

An oven proof rectangular deep sided tray or a lasagna dish




Just Add
Part 1: Make Bechamel /White Sauce
• 2 1/2 oz/80 gm butter

• 2 heaped tablespoons of plain flour

• salt and pepper to taste

• 6 cups of milk




• Preheat the oven at 350F/180C

• Melt butter in a large saucepan

• As soon as it has melted add in all the flour and seasoning, all at once

• Lower the heat to medium so that it does not burn. Stir to combine so that all the flour is coated with butter. The mixture will clump together and look like little pieces of dough.

• Tip in all the milk, all at once. Stir continuously blending the clumps of flour and butter into the milk. As you stir, break up the clumps so that the mixture is smooth.

• Keep stirring. As soon as the milk starts to heat up, turn down the heat to low. The milky mixture will suddenly turn thick.

• Keep stirring, but as with the cooking of all dairy products, do not allow it to boil. Keep the heat turned sufficiently high so that it is on a low simmer.

• The mixture will thicken as you stir to remove the lumps. Turn the heat off once the it is thick and smooth. If there are still a few lumps, don't worry about this.



Just Add
Part 2: Prepare The Filling
• 1 pound/500 grams premium grade ground beef

• 1 onion, diced

• 2 carrots diced finely

• 2 cloves garlic, diced finely

• 1 can of diced tomatoes

• 3/4 pound/ 350 grams passata

• 2 heaped ts stock powder

• salt, pepper, sugar to suit your taste

• 2 tbs soy sauce

• 1/2 tbs worcestershire sauce

• 1 tbs flour for thickening

• 5 cups of cooked pumpkin from 3 pounds/1.5 kg of fresh pumpkin




• Into a large non-stick pot, fry the onions with the ground beef, garlic and carrots. If you don't have a non-stick pot cook with 2 tbs of good quality vegetable oil

• Cook till browned

• Add in the remainder of the ingredients and combine well

• Cover the pan and leave to simmer for 20 minutes till the meat sauce is delicious and thick

Pumpkin

• In the meantime, prepare the pumpkin

• Trim, remove seeds, rinse and cut into large chunks

• Stew in water with 2 tablespoons of sugar till the fruit is soft but still holds its shape.

• Drain away all the water


Just Add
Part 3: Layer the Lasagna
• The prepared bechamel

• The prepared cooked ground beef filling

• The well drained chunks of cooked pumpkin

• 2 cups of shredded cheese




• Start the layers by coating the base with bechamel. Look at the photo and you'll notice that it just covers the bottom thinly. Ration this as it has to cover 4 more layers, the top requiring the most

• Add three sheets of instant lasagna. You don't need to cook them. Just lay them on dry straight out of the packet, just like in the photo instruction

• Layer with all the cooked pumpkin pieces

• Top with 3 sheets of dry instant lasagna

• Spoon white sauce over the sheets

• Add half the meat filling

• Repeat again - 3 sheets of lasagna, bechamel then meat layer

• Top with the last 3 sheets and the remainder of the bechamel

• Finally scatter shredded cheese all over the top

• Bake for 35 minutes till golden brown



Enjoy!
Now, wasn't this pumpkin lasagna just so easy to prepare. .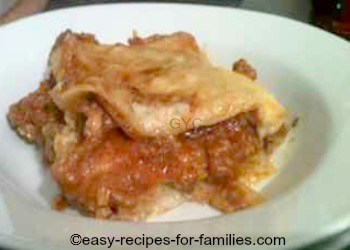 We find the sweet pumpkin tempers the sometimes overly tasty tomato based meat lasagna and this recipe is particularly delicious.
Tips
Don't worry if your bechamel is not totally smooth. This will only be a concern for dishes where the sauce is presented for example for a cheesy baked cauliflower.
For pumpkin recipes, canned pumpkin makes a good substitute. However for this recipe be sure not to use puree.
---
Leave Pumpkin Lasagna and explore this site for hundreds of delicious yet so easy meal plans.