Pumpkin Lasagne Recipe
Delicious Yet So Easy
This delicious pumpkin lasagne recipe is incredibly easy to make, with layers of tasty meat sauce and a thick moist layer of sweet pumpkin.
This is from our collection of easy recipes, another simple pumpkin recipe that looks and tastes sensational yet takes little effort.
In this part of the tutorial, we'll learn to make the delicious but so simple, meat sauce for the lasagne.
If you'd like the full recipe, just click on the button:
In the previous step of this No Fuss Recipes tutorial, we learned how to make the white or Bechamel sauce for Lasagne. To go to this previous step of this tutorial, just click on the button:
Here's how to make the meat filling for the lasagne
For this part of the recipe, you'll require:
1 pound/500 grams premium grade ground beef
1 onion, diced
2 carrots, finely chopped
2 cloves of garlic, diced finely
12 oz/ 350 gm passata
1 can diced tomatoes
2 tbs soy sauce
1/2 tbs worcestershire sauce
2 heaped ts stock powder
salt, pepper, sugar to taste
1 tbs plain flour
For lasagne, it is best to dice vegetables finely.
Place the meat, onions, garlic and carrots into a large non-stick saucepan and cook.
If your pan is not non-stick, fry with 2 tbs of good quality vegetable oil.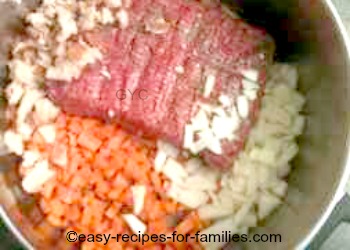 Fry till the meat is browned.
Add all the remainder of the ingredients and combine well.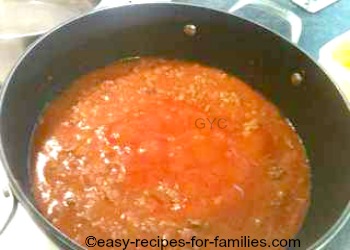 Bring to the boil then reduce heat to simmer. Stir occasionally till the meat sauce thickens.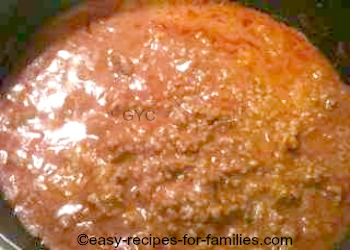 Leave the cooked meat filling for a moment while you cook the fresh pumpkin.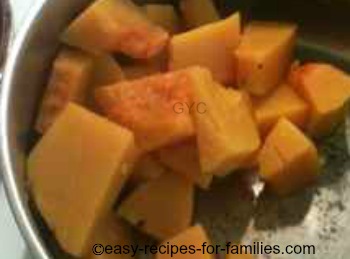 The pumpkin should be cooked till tender but still holds its shape. It should have some texture, so that the lasagne has a firmer "mouth-feel".
---
Leave Pumpkin Lasagne Recipe and explore this site for hundreds of wonderfully simple recipes that can be done in a flash.