Delicious
Pumpkin Lasagna Recipe

You've joined us in this Easy Recipes tutorial for a pumpkin lasagna recipe and on this page, we learn to make the white or Bechamel sauce.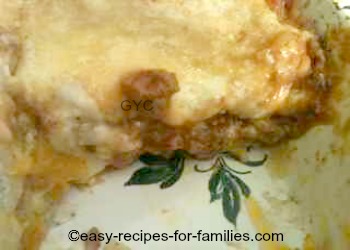 For the full recipe, just click on the button:
Here's how to make the Bechamel Sauce
For this part of the recipe, you'll require:
2 1/2 oz/ 80 grams butter
2 heaped tablespoons plain flour
salt and pepper to taste
6 cups of milk
Melt the butter in a large saucepan.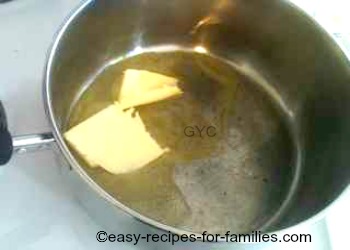 Turn the heat down to low so that the mixture does not burn.
Add the flour and seasoning all at once.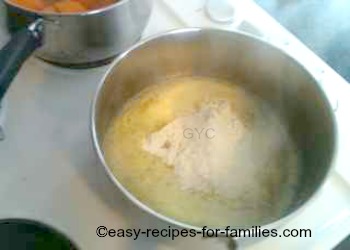 Combine quickly to coat all the seasoned flour with butter.
The mixture now looks like small bits of dough.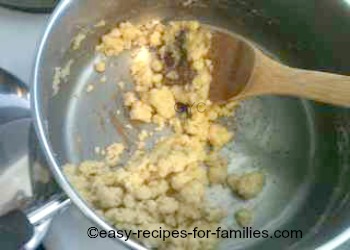 Now add in all the milk, all at once. Stir thoroughly to combine the flour mixture with the milk.
Turn the heat up till the mixture starts to vapor then turn it down. As with all diary products, this must not be boiled.
Stir continuously breaking up the floury lumps so that the milky mixture is quite smooth.
All of a sudden, the milk will start to heat up and bubble and the mixture thickens. Lower the heat immediately.
But keep stirring on low heat taking care not to boil the mixture. The sauce will thicken as you continue to stir.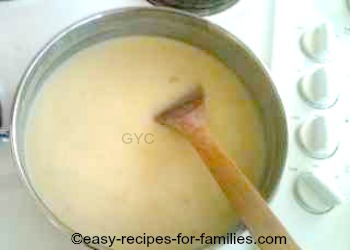 Turn the heat off once the sauce is ready.
Leave this aside for the moment while you prepare the meat and pumpkin filling for this easy lasagna.
For this easy pumpkin lasagna recipe, don't worry if there are still a few lumps. The sauce only needs to be perfectly smooth if it is presented such as the white sauce over a baked cheesy cauliflower.
Once you master the Bechamel sauce, lasagna becomes one of the truly easy and incredibly delicious easy recipes which passes all my Easy Recipes tests:
1. The lasagna looks sensational
2. It tastes divine
3. It is really simple to put together
4. It is a budget meal
5. Lasagna is a healthy low fat meal, when premium grade ground beef is used
---
Leave Pumpkin Lasagna Recipe and explore this site for heaps of cheap quick easy dinner recipes.