New Twist On
Pumpkin Recipes

Wonderful pumpkin recipes with a new twist that your family will just L-O-V-E!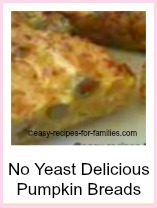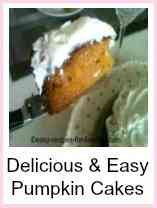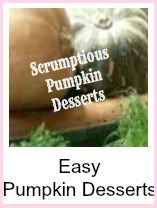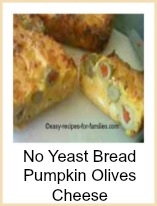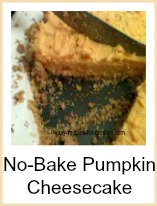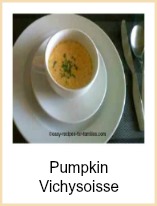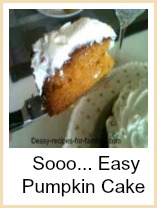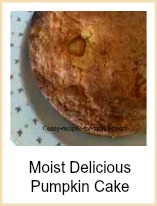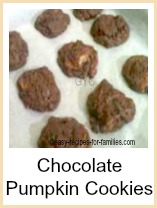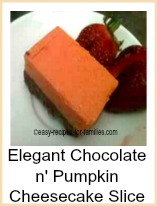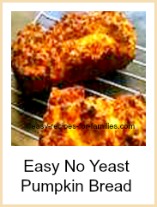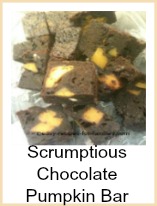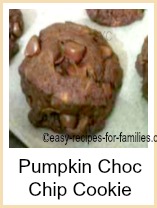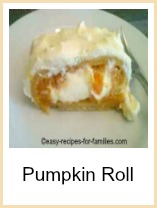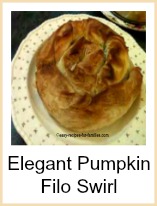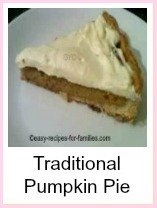 Savory Pies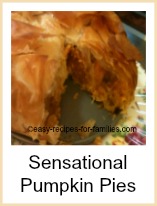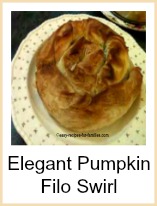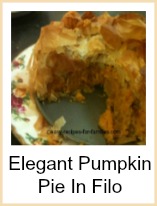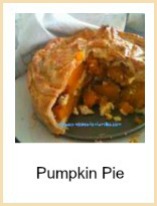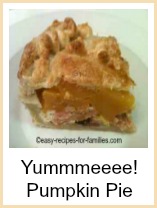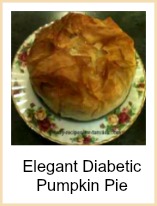 Delicious Sweet Pies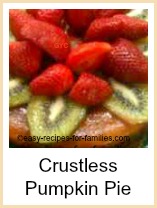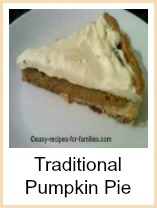 Pumpkin Chili

Pumpkin Soups

Pumpkin Cakes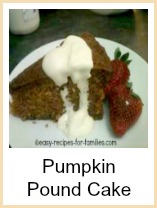 Pumpkin Breads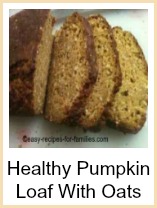 Pumpkin Bake Recipes

Pumpkin Bar Recipes

Pumpkin Desserts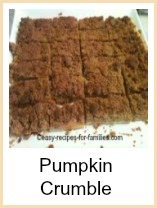 Easy Pumpkin Ideas

This is such an ideal fruit for easy cooking as it has a natural subtle flavor and absorbs the neighbouring flavors whether it's bacon, apricot or coconut. I've found that because of this natural absorption, it makes a good, inexpensive filler and it does not over-power the other ingredients.
Try all these terrific ideas - they are all incredibly easy to do, other than the pie wrapped in elegant in filo pastry! Filo presents beautifully and we show you how to work easily with it. It's not difficult, just fussy.
Explore these simple to prepare dishes that range from the elegant dessert of a chocolate base topped with pumpkin in jello, to the robust and absolutely delicious pumpkin pie with feta cheese. Naturally, they are super easy - they just present as though you've spent hours slaving over the stove. Shh...just don't tell anyone it's super easy.
For delicious savory dishes, cook the fruit in salted water and add wonderful spices to bring out its flavor. Explore our site for ideas for a variety of options including savory loaves, pies, chili, meat loaves and just simple delicious roasted pumpkin.
You'll find that this fruit also makes scrumptious sweet treats ranging from pies, cheesecakes to bars, cookies and muffins. Enjoy discovering all the yummy treats that you can make. For these sweet dishes, stew the fruit in sugared water.
The key with stewing is to add sufficient water but not too much as otherwise you'd drain away the flavors in the excess liquid. I've found that a water level to about 1/2 to 3/4 level of the fruit in a saucepan is about right. Take care to watch the stewing so that it does not boil dry.
Take care to follow the instructions on the recipe - in some recipes, you'd use puree and in others, the cooked fruit that while tender, still holds its shape and has some texture.
We show you how to cook with fresh pumpkin but of course, you're welcome to use the canned product.
---
Back to the top: New Twist On Pumpkin Recipes
Check out heaps of


super easy and delicious recipes that will make you look like a sensational cook!