Irresistible
Pumpkin Cheese Cake


This incredible pumpkin cheese cake is literally a throw it all together, then bake it, type of dessert.

...and it is always a success! It's another of our easy recipes that's just sensational and beautiful to serve visitors!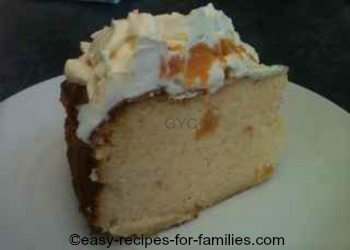 Rating:
Easy
Hands-On Time:
30 minutes
Hands-Off Time:
1 hour 30 minutes
Ingredients:
8
Steps:
2
Ingredients for a Delicious Pumpkin Cheese Cake
This recipe is so easy to prepare. Just follow the instructions on the recipe and the photos below, but if you are new to baking and would like to see what each procedure looks like in detail, please just click on the "Learn How" buttons to take you to the relevant page.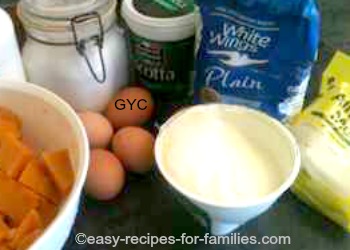 Equipment: Removable SpringForm Pan
Hand held electric beater
Flour
Almond Meal
Sugar
Pumpkin puree
Ricotta cheese
Eggs
Maple Syrup
Cream For Whipping
2 Steps To A Scrumptious Pumpkin Cheesecake
Step 1:
Mix together all the ingredients, except the cream which is for the topping.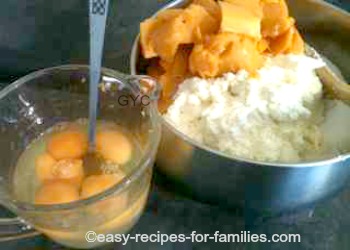 This is what the batter looks like once the egg and maple syrup are added.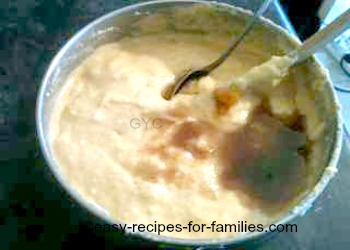 Bake to perfection then plate when cooled.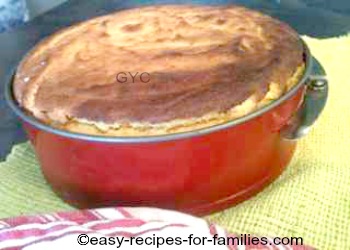 Step 2:
Decorate with lashings of topping.
Layer to achieve the orange and white swirl effect.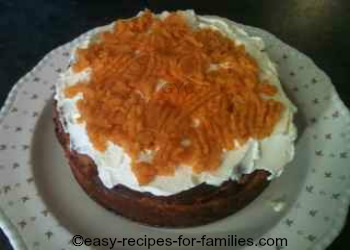 This cheese cake presents elegantly and tastes divine!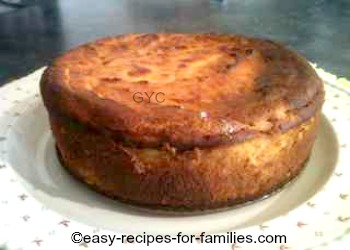 This goes perfectly with...
This really easy, throw it all together type of dessert is exactly what's necessary for entertaining. You want it real simple to prepare but it needs to look sensational. If you're entertaining and need a soup that's incredibly easy yet takes minimal effort, look no further than this
elegant vichysoisse
you can make in the slow cooker. These easy recipes are certain winners!
This recipe makes 12 - 16 generous slices of cheese cake.

Equipment:


A non-stick springform pan
A hand held electric beater




Just Add
Make Cheese Cake
• 1 cup almond meal

• 1/2 cup plain flour

• 1 cup sugar

• 2 cups pumpkin pieces

• 2 pounds/875 grams ricotta cheese

• 6 eggs, beaten

• 2 1/2 tbs maple syrup




• Preheat oven to 350F/180C

• Combine all the dry ingredients with the pumpkin, then add beaten eggs and maple syrup

• Pour into the springform pan

• Bake for 1 hour and 30 minutes

• Remove from the oven and cool thoroughly


Just Add
Part 2: Decorate
• 2 cups thickened cream for whipping

• 1 cup pumpkin puree




• While the cheese cake is cooling, whip the cream and puree the pumpkin

• Decorate the cheese cake only when it is completely cool and beautifully plated,

• Spread half the whipped cream on the cheese cake

• Top with pumpkin puree leaving a margin of 3/4 inch from the edge

• Top with the remainder of the whipped cream

• Using the tip of a blunt butter knife, make half moon shapes in the topping, so that the effect is crescent shaped cuts through the cream and pumpkin. Do this roughly all around the top of the cheese cake. The effect is marvelous rough swirls of orange and white.


Enjoy this incredibly delicious cheese cake for dessert.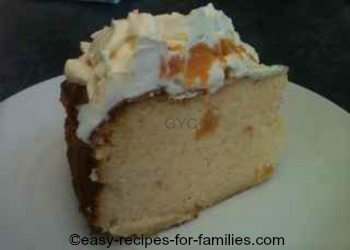 Tips
When using a springform pan be sure it is non-stick so that the cheese cake separates easily from the walls when baked.
Use a blunt knife to run around the edge of the cake. This ensures there is no part that sticks to the walls of the pan, before the walls are removed.
Before pouring in the cheese cake batter, just check that the springform lever is firmly in place and that the bottom is also firmly set.
There are no short cuts to decorating the cake, just make certain the cheese cake is fully cooled before applying the topping.
---
Leave Pumpkin Cheese Cake and browse this site for inspiration from our hundreds of easy recipes.