Sensational
Cream Cheese Pumpkin Pie
This cream cheese pumpkin pie is just sensationally easy. Just throw all the ingredients in a pot and combine, and like our other easy recipes, this will always be a fabulous success - looks great, tastes divine!
You've joined us on this page, where we learn each stage of the process of making the pumpkin cheese cake.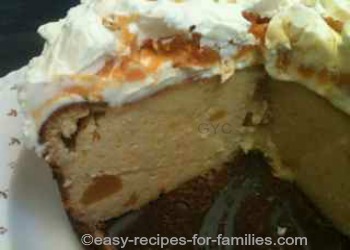 If you'd like the full recipe, just click on the button:
Here's how to make the sensational pumpkin cheese cake
For this part of the recipe, you'll require:
1/2 cup Plain flour
1 cup Almond Meal
2 cups Pumpkin pieces, cooked till very tender
1 cup sugar
2 pounds/875 gm Ricotta cheese
6 eggs, beaten
2 1/2 tbs maple syrup
Section 1:
Place all the dry ingredients into a roomy bowl, as in this photo. See in the large saucepan, piles sugar, almond meal and flour.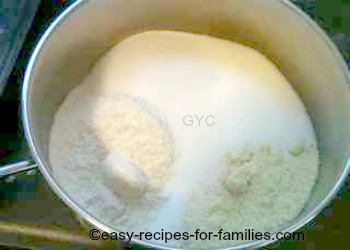 Now, add in the other ingredients of very tender pumpkin pieces and all the Ricotta cheese.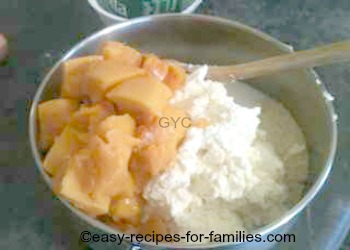 Mix well together. See how the mixture looks dry and floury. Keep mixing and you'll find the cheese and pumpkin break up and do a terrific job blending.
Now add the liquid ingredients.
Here you see the addition of beaten eggs.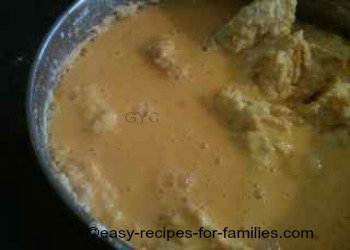 Add the two and a half tablespoons of maple syrup.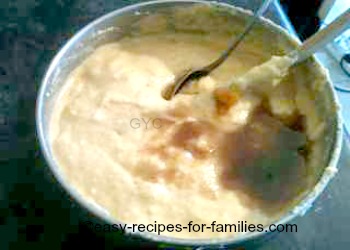 Combine it well and it will soon become a lovely thick smooth batter.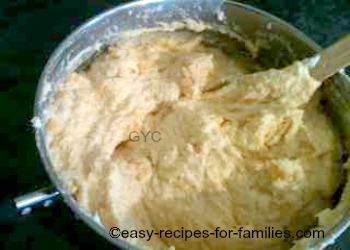 Pour the batter into the non-stick springform pan.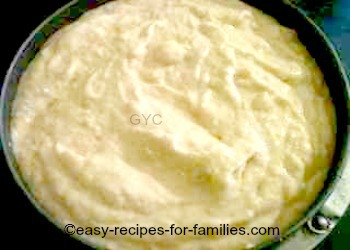 Here we are, the cheese cake is ready for baking.
Now wasn't that the easiest ever cream cheese pie! It is incredibly simple to prepare, looks sensational and tastes divine.
This recipe is a keeper - it's one of those you will want to keep as it is so easy and it never fails.
The best part is that it has all the ever popular components of pumpkin, cream, cheese and maple syrup without the fuss and bother of making a pie crust.
---
Leave Cream Cheese Pumpkin Pie and be inspired by loads of easy cake recipes.