Grandma's no-bake chocolate pie is so incredibly simple to make and a guaranteed success. The hardest part of this recipe is crushing the biscuits to make the crumb crust.
Grandma's Very Rich Chocolate Pie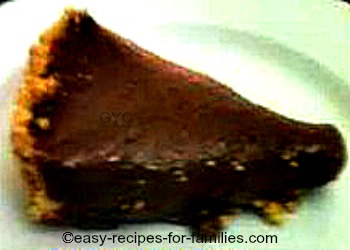 It looks divine served with whipped cream or just on its own.
Absolutely yummy!
Grandma's Choc Pie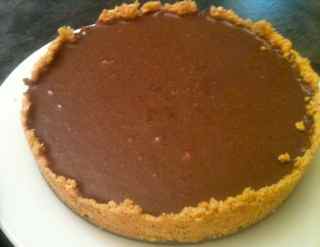 This recipe makes 6 - 8 slices of pie.
Ingredients for Choc Pie

Crush Oatmeal Biscuits In A Zip Lock Bag
Using A Heavy Sauce Pan To Crush The Biscuits. Crush Only Half The Biscuits In The Bag Then Repeat

Melt The Butter In A Sauce Pan

Crumb Mixture Mixed In Butter. It is now ready To Be Put In The Spring Form Pan As A Crumb Crust.

Choc Pie In Spring Form Pan

Grandma's Decadent No Bake Chocolate Pie

Just Add
Prepare
•1 packet of oatmeal biscuits, crushed

• 3 1/2 oz / 100 gm butter

• 1 block/ 11 oz/ 300 gm chocolate

• 1 oz/30 gm butter

• 1/2 can/5 1/2 oz/ 150gm condensed milk

• 1 ts gelatin, dissolved

• (Optional) 1/4 cup rum




• Make the crumb crust by crushing the biscuits in a zip lock bag till it becomes fine crumbs. I've found it easiest to put half a packet of biscuits into a zip lock bag, place it on a heavy chopping board and then use the bottom of a heavy saucepan to crush the bag of biscuits. It soon becomes a bag of fine crumbs.

• Melt butter in a saucepan. Take it off the heat and combine the biscuit crumbs to the butter. The mixture will form a ball when pressed. If it does not, add more melted butter. Do not substitute with oil

• Press the crumb mixture into a greased spring form tin. Use your fingers to press it in firmly.

• Pop it in the freezer to chill while you are making the chocolate filling

• In a saucepan on moderate heat, melt butter and chocolate. Take it off the heat as soon the butter and chocolate has melted. Stir in the condensed milk

• Add in dissolved gelatin. Combine

• Add rum, if you choose. I find children find the taste of rum too strong and prefer the pie without liqueur

• Pour the chocolate mixture into the crumb crust

• Refrigerate for at least 2 hours


Serve with whipped cream or ice cream.
Now, how simple was that!
~~~~~~~~
Tip
If you don't have a spring form tin, press the crumb crust into a ceramic pie dish.
Oatmeal biscuits crumb much easier than other plain sweet biscuits.
I choose not to use a food processor as this only creates washing up. Using my method, it's done just as quickly without the work of washing up.
~~~~~~~~
For more luscious desserts:
Index of Scrumptious Dessert Recipes
For snacks:
Quick Snack Recipes
For easy pies:
Index of Sensational Pies



Wishing you happy cooking!
For more Quick Easy Recipes:
---
Top of Page Grandma's No Bake Decadent
Chocolate Pie