Pumpkin Soup Recipe

Pumpkin Vichysoisse


This is not just a pumpkin soup recipe, it is a vichysoisse. This is a rather fine soup with real depth of flavor.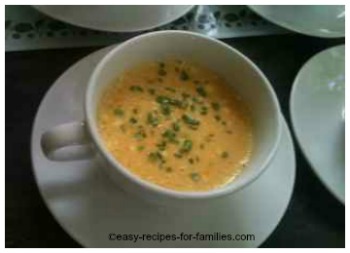 I take the trouble to make the best chicken stock for this pumpkin soup recipe and it just won't do to use stock cubes.
The deep flavorsome base of the stock comes from long slow cooking of a fresh chicken carcass and lots of fresh vegetables.
Remove the skin and filet the chicken. It is the carcass, wings and long bones from the legs and thighs that are to be boiled to make a stock with a rich, deep base.
Reserve the meat, season and refrigerate for use in another recipe.
Or, purchase the carcass from the butcher.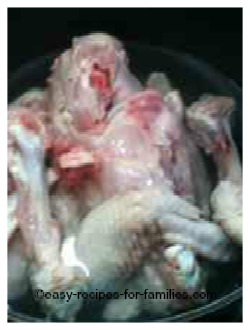 Place the bones in a deep soup pot. Add 10 cups of fresh cold water.
Add washed and finely diced leeks.
Season with salt and pepper to taste. Add 2 ts sugar (it helps bring out the deep flavor).
Bring to the boil then turn the heat down to a roiling simmer and boil for 45 minutes to an hour till the leeks are soft and just about falling apart.
Discard the carcass and bones.
Here it is - a rich, tasty, deeply flavorsome homemade stock full of natural goodness.
Step 2 - Add pumpkin
Toss in all the chunks of pumpkin.
Bring to the boil then turn the heat down to a roiling simmer. Cook until the pumpkin is very soft.
Do a taste test and add more seasoning if desired.
At this stage, the pumpkin can be mashed and the soup put aside and frozen for use another time.
Do this next stage just as you're about to serve this wonderful pumpkin soup.
Step 3 - Add sour cream, garnish and serve
Drop in the sour cream.
Use a blender to smoosh it all till it is fine puree.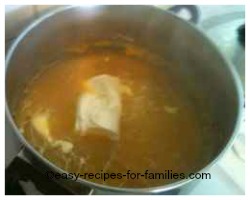 Here it is, just a most beautiful soup!
Ladle into your best soup bowls. I use large tea cups served on saucers. It looks sensational.
Dust over with a little paprika and some finely chopped chives.
If you have surplus cream or sour cream, place a dollop on top of the soup.
This recipe makes 6 servings.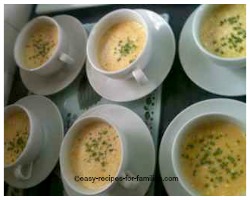 This Recipe Goes With...
This delicious pumpkin soup goes perfectly with the best
moist roast pork
ever and a freshly made crunchy salad.
This recipe makes 6 serves.
Just Add
Prepare
• 1 pound/500gm pumpkin, trimmed, seeded, washed and cut into chunks

• 2 medium sized leeks, trimmed, washed and chopped finely

• Salt, pepper, a little cumin

• 8 cups homemade chicken stock

• 1 cup sour cream

• 1/2 tsp paprika

• 1 tsp finely cut chives

• Freshly ground pepper



• Bring 8 cups of chicken stock to the boil in a large soup pot. It's best to make your own stock. See photo instructions above.

• Pop the pumpkin, leeks and seasoning into the pot.

• Bring to the boil then reduce the temperature to simmer and cook till the pumpkin and leeks are very soft and tender. This should take no more than 20 minutes depending on the variety of pumpkin

• Remove from heat and add more seasoning if required.

• Use a blender to smoosh it all. If you don't have one, a potato masher works just fine.

• If you are making the soup to serve another time, the soup may be frozen at this stage and thawed for use

• When you are about to serve, pour the sour cream into the soup and blend well. Heat through the soup without bringing it to the boil

• Garnish with a sprinkling of paprika and a little dash of finely cut chives.

• If you wish, spoon a dollop of thickened cream on top.

• Serve with hot bread rolls


Tips
This soup freezes well. Make double the quantities to reserve half for another meal.
For a low fat alternative, substitute natural greek style yoghurt in place of sour cream. Although, I must add, the richness of flavor seems to be missing when using yoghurt.
~~~~~~~~~~~
---
Discover