Luscious
Pumpkin Cheese Cake Recipe

In this last stage of the tutorial for this irresistible pumpkin cheese cake recipe, we learn how to dress it with swirls of pureed pumpkin and lashings of whipped cream.

Just look at this - just sensational! It's another from our collection of super easy recipes that look fabulous yet take minimal effort.


To go to the full recipe, please click on this button:
To go to the previous step of this tutorial where we learned how to release the cake from the spring form pan, click on the button:
To return to the first step where we learned how to make the cheese cake mixture, click here:
Final Steps To This Creamy Irresistible Pumpkin Cheese Cake
For this stage, you'll require:
Equipment: Hand held electric mixer
The baked pumpkin cheese cake cooled and plated
2 cups thickened cream for whipping
1 cup pumpkin puree
Prepare Topping:
Measure in a large measuring jug, 2 cups of thickened cream. Be sure to use a jug that will sustain whipping using an electric beater.
Otherwise, measure out and pour into another beaker. I like to whip and mix in the measuring jug so as to save time and washing up.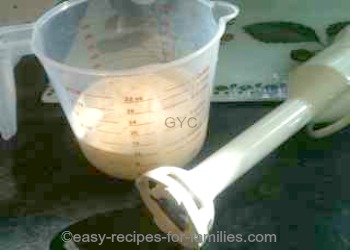 Using a hand held electric beater, whip till it is thick and firm.
See in this picture how it is so thick it holds its shape.
Now, it is common to add fine caster sugar before whipping but I consider this optional and in fact hardly ever do so, to minimize my family's consumption of sugar.
If you're cooking your own fresh pumpkin for the puree, it's now time to get ready the pumpkin puree. Here's a cup of measured stewed pumpkin pieces.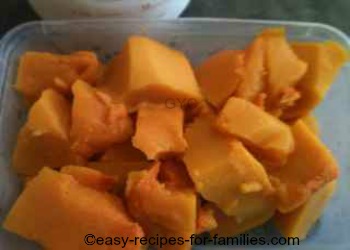 Using a fork, puree the pumpkin till it is very smooth.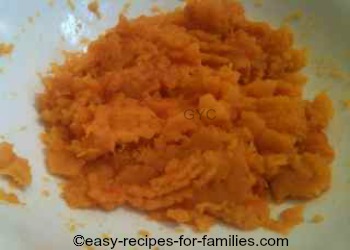 Let's start dressing the top of this delicious pumpkin cheese cake:
Spoon half the whipped cream onto the top of the pumpkin cheese cake. Just plop it on like in the photo.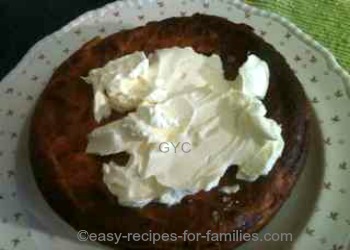 Using a flat spatula or blunt wide knife, spread it out till the edges so that the cake top is well covered.
Do the same now with the pumpkin puree spreading it all around the top of the first layer.
Leave a margin of about 3/4 of an inch from the edge.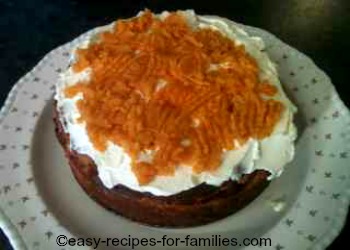 Repeat with the remainder of the whipped cream.
Take care not to mix in the orange pumpkin layer. Spread the topping all over so that it covers the top entirely.
To get the effect of swirls of white with bits of sharp orange, use the tip of a blunt butter knife to make gentle crescent shapes. Do this all over the topping.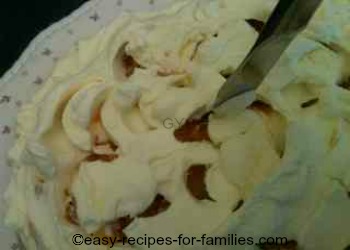 Isn't this just gorgeous!
It tastes divine and looks so very inviting!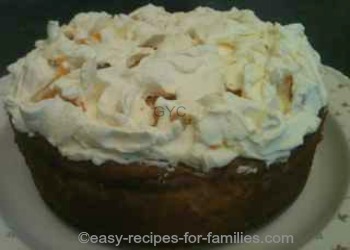 I make up this pumpkin cheese cake recipe as a dessert at dinner parties as it looks so gorgeous and most importantly because this recipe can be whipped up so incredibly easily.
This Dessert Goes Perfectly With...
This pumpkin cheese cake is not overly sweet and is ideal for an elegant dinner, where the flavors are subtle like this delicious
Moist Roast Chicken
. This is another recipe that's so embarrassingly easy!
---
Leave Pumpkin Cheese Cake Recipe and find hundreds of delicious recipes with the homemade touch!