I made this easy luscious super rich double chocolate pie recipe for our Mother's Day family get together. This recipe is scrumptiously delicious and because it has double the chocolate proportions, it is naughtily calorific!


Incredibly Simple To Make Double Chocolate Pie
This recipe makes 8 servings.
Preparing the pie crust and the simple chocolate filling will take about 30 minutes, and the refrigeration required will be at least 2 hours.
Serve with whipped cream or ice-cream or just on its own.
Just Add
Prepare
• Prepared short crust pastry

• 4 oz/ 125 gm butter

• 7 oz/200 gm dark good quality chocolate

• 1 cup brown sugar

• 1 tbs cocoa powder

• 8 oz/250gm light cream cheese

• 3 tbs thickened cream

• 1 tsp gelatine, dissolved in a little hot water



• Line a pie tin with the prepared short crust pastry and bake blind at 400f/200C for 15 - 20 minutes

• Allow to cool before spooning in the chocolate mixture

• Make the chocolate filling by firstly melting the butter, chocolate and sugar in a saucepan on low heat. Take care it does not boil. Combine well till smooth

• Take it off the heat as soon as the butter and chocolate has melted

• Add in cocoa powder. Combine

• Add in cream cheese. Combine well till smooth

• Add in dissolved gelatine and cream. Combine well

• Pour chocolate filling into the cooled pie crust

• Refrigerate till firm, for at least 2 hours


This recipe makes a very rich chocolate dessert. You and the family will just love it.
Homemade Chocolate Pie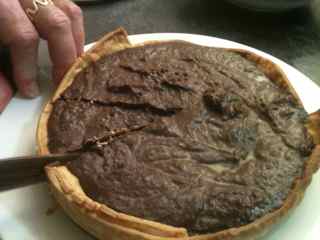 Now, wasn't that recipe just so simple to prepare?
My family just about devoured this dessert. I dare say, this easy chocolate pie recipe was a resounding success! It's one of those recipes that doesn't take much effort and yet produces a delicious result.
Tips For Baking Recipes
Use a non-stick pie tin so as not to waste time greasing and lining the bake ware.
If this is too rich, reduce the amount of chocolate by 25 to 30%.
If you are serving this yummy dessert at a dinner party, whip thickened cream as topping for the pie.
Use store bought rolled-out pie crust or short crust pastry.
Alternatively use biscuit crumbs for the crust. Either way, the hero in chocolate recipes is the rich, luscious chocolate!