It is very sweet, as candy should be.
Absolutely yummy! If you have a sweet tooth, this yummy candy will be finished in no time at all.
Easy No Bake No Copha Coconut Candy
Just Add
Prepare
• 5 1/2 oz/ 150 gm icing sugar

• 7 oz/200gm dessicated coconut. This is flesh from inside the nut that is dried and finely grated

• 7 oz/200gm condensed milk

• 1/2 tsp lemon juice

• 1/2 tsp vanilla

• 2 drops red coloring



• Combine all the ingredients, except the red coloring

• Spoon one half of the mixture into a rectangular container. Press down firmly with a wooden spoon.

• To the other half in the mixing bowl, add 2 drops of cochineal or red coloring. Combine well. It becomes pink in color

• Gently spoon this pink mixture over the white layer in the container. Even out the layer

• Refrigerate for at least 2 hours


Slice into small squares to serve. As this candy does not have fat, it will not harden as you would expect. It is the melted fat or shortening when hardened, that firms the candy. So, this no fat candy, although it will hold together, it will be flexible.
While it is still full of sugar, at least it does not have the added cholesterol!
Desiccated Coconut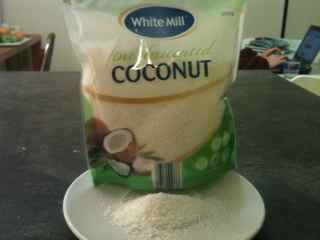 Now, wasn't this the easiest of candy recipes! ...and it looks inviting too!
Tip
Desiccated coconut is the dried and grated white flesh of the nut. For this candy recipe, it is preferable to use the fine desiccated coconut rather than shredded coconut.
If you'd like the traditional recipe, please visit my
Grandma's recipes for coconut candy
. She made this candy the traditional method with Copha, a vegetable shortening and we all enjoyed this for years.
But now that we know about the dangers of saturated fat, I avoid the use of copha in my recipes. We've learnt to prefer this easy coconut candy non bake recipe.
I have to admit though, there is nothing quite like her candy recipes. It is so easy to prepare, delicious, but just so full of saturated fats.