If you're looking for Easy Kids Cooking Recipes, you can't go past these delicious and very simple to make Coconut Macaroons.
are most suitable as kids cooking recipes.

The kids will have terrific fun (meaning you'll have a huge messy kitchen) learning the cooking technique of separating egg whites from the yolk and naturally, please help them with the oven.

Other than that, the children will find this a very easy recipe to make, with an extremely satisfying result.
Easy Coconut Macaroons



This recipe makes 20 macaroons.
The kids will require:

•    2 egg whites

•    2 cups dessicated coconut

•    1/2 cup sugar


Here's how to put together the macaroons:

•    Preheat oven to 350F/180C

•    Line a baking tray with greaseproof paper

•    Separate the egg whites from the yolks. Put the egg whites in a mixing bowl with sugar and coconut and combine well.

•    Using clean fingers, scoop out a tablespoon of mixture and form into a ball

•    Place macaroons on the lined baking tray. The mixture will make about 20.

•    Bake for about 8 minutes till the macaroons just start to brown

•    Take them out of the oven immediately and allow to cool before serving

•    Store surplus macaroons in an airtight container   
Kids, take a look at this photo.

Notice that the macaroons are placed well apart on the baking tray.  See how the tray is lined with parchment paper? This is so that you can remove them easily after baking.
These have just come out of the oven and notice that they're only just brown.  They're delicate and burn easily so take care that they're not in the oven for too long.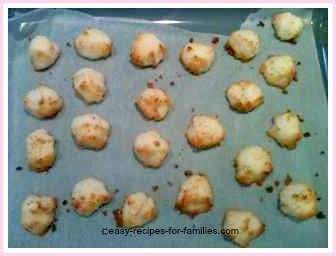 This has to be the easiest of kids cooking recipes.  They're very tasty, yummy, it takes under half an hour from start to finish and this will hold the kids attention span and the kids find it fun!


Easy Recipes Tips

How to separate egg whites from yolk:

Get two containers at the ready - we use two coffee cups. Have them sitting side by side.

Crack an egg in half gently and immediately hold it UPRIGHT with the round side of the egg pointing down. You can remove the pointy end of the egg.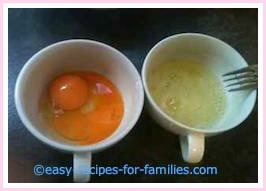 Allow the whites to run free into the cup.  The yolk will sit in the half of the shell.

When the egg white has run out, tip the yolk into the other cup.

Repeat for the second egg.

Save the yolks to add to an omelet.