Elegant Pumpkin Dessert

This is a most elegant and delicious pumpkin dessert of a chocolate bed with cracker crumbs topped with a firm pumpkin cheesecake mix in orange jelly.

...and it is a sensational dessert! Truly, one of our easy recipes. Look at the lovely contrast in colors!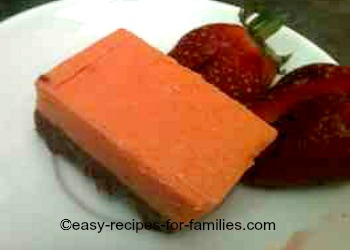 Rating:
Easy
Hands-On Time:
20 minutes
Hands-Off Time:
4 hours
Ingredients:
8
Steps:
3
If you need to cook a fresh pumpkin to make the pumpkin cheesecake jello, add on another 20 minutes of time.
Ingredients for an elegant pumpkin dessert
This recipe gives step by step instructions on how to make this lovely dessert.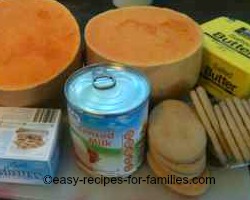 Equipment: 2 non-stick loaf tins
5 Graham Crackers/digestive or whole wheat biscuits
Butter
Chocolate
Pumpkin
Sugar
Sweetened Condensed Milk
Cream cheese
Orange jello crystals
3 Steps To No Bake Elegant Pumpkin Dessert
Step 1:
Make the chocolate base and include a handful of crushed crumbs from graham crackers.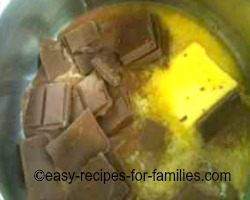 Step 2:
If you don't have access to canned pumpkin, follow these easy instructions to learn how to cook butternut squash also called a butternut pumpkin.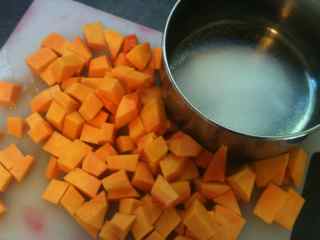 Step 3:
Make The Cheesecake Jello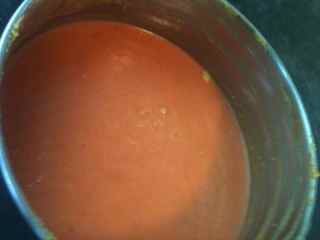 Step 4:
Layer the pumpkin dessert.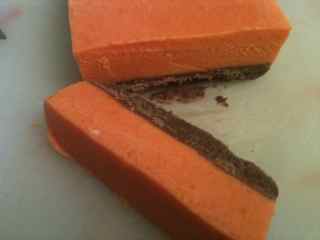 Chill for 4 hours to set this sensational pumpkin dessert.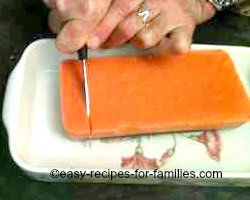 This Dessert Goes Perfectly With...
This sweet no bake pumpkin dessert is a lovely light dessert and is ideal to round off a light cool summer meal. This pie goes perfectly with a summer lunch of a
moist roast chicken.
Both these are really easy recipes.
This recipe makes 6 to 8 servings.

Equipment: Two silicone loaf tins


Just Add
Prepare
• 5 graham crackers/digestive or whole wheat biscuits

• 6 oz/180 gm butter

• 10 1/2 oz/300 gm good quality chocolate block

• 7 oz/ 200 ml sweetened condensed milk

• 2 cups pureed pumpkin. If you wish to make this from fresh pumpkin, prepare 1 pound/500 grams of butternut squash

• 4 oz/125 gm cream cheese

• 1 packet orange jello

• 100 ml boiling water



Make the base

• Crush the Graham crackers by placing them into a clean plastic bag, such as a medium sized freezer bag. Knot the bag.

• Using the base of a heavy saucepan, crush the crackers till they resemble very fine crumbs

• Melt butter and chocolate together in a saucepan

• Tip in the fine crumbs all at once and combine well

• As soon as the mixture has melted, pour into the silicone two loaf tins, which are used as molds

• Leave it at room temperature, NOT in the refrigerator as otherwise the base will become too hard and the jello top will not bind to the base

Make the cheesecake jello

• Add together the condensed milk, cream cheese, pumpkin. Mix to combine well

• Make the jello with enough boiling water to only 1/2 cup in total.

• Add the jello to the pumpkin cream cheese mixture and combine well

• Pour evenly over the chocolate base

• Leave in the refrigerator to set for 4 hours


Prepare the pumpkin (if required)

• To prepare the fresh pumpkin, firstly remove the outer skin and seeds. Wash it then cut into large chunks.

• Boil in a saucepan with 2 tablespoons of sugar and enough water so that it does not boil dry. The amount of water depends on the variety of pumpkin but as an estimate, start with a water level covering 3/4 of the fruit. But keep a watch so that you add more water if it is about to boil dry.

• Boil till the fruit is very soft.

• Drain off all the excess water.

• Puree the cooked fruit. Use a blender, but because there's just so little of this, the potato masher works just as well.




This incredibly easy pumpkin dessert is a variation on a pumpkin cheesecake. The elegant top is a pumpkin cream cheese mixture set in jelly and the base is crumb base encased in lots of delicious chocolate.
Serve the dessert bar sliced to suit your taste. This recipe makes two bars will serve 6 - 8 generous servings of dessert.
Enjoy this lovely light easy no bake pumpkin dessert.
Top with whipped cream or ice cream as you wish.
Tips
Butternut squash also called acorn squash or butternut pumpkin is the preferred variety of pumpkin mainly because it is is not as large and easier to handle. It seems to cook faster as well.
Substitute with low fat cream cheese to minimize consumption of fat.
It is better not to substitute oil for butter. The objective is to have a firm bed but oil does not set and the chocolate layer will then be too soft.
When the base mixture has been poured into the molds, do not place in the refrigerator to set yet. Leave it at room temperature. If it sets too hard, the jelly layer will not bind and will just slip off.
Wasn't this so simple to prepare? It truly is one of our lovely easy recipes, but if you'd like to view each of the steps, please do follow the links to each of the sections ranging from how to cook butternut squash to how to make the cheesecake jello.
---
Leave Pumpkin Dessert and discover loads of recipes with simple step by step photo instruction such as this.