Elegant Pumpkin Cheesecake Bar Recipe

Here we are at the last stage this elegant pumpkin cheesecake bar recipe. As you've seen in the last 3 steps, it is an incredibly easy recipe and it's how you put the bar together that makes it so lovely.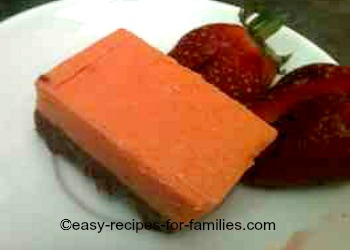 This easy bar dessert is a layer of chocolate textured with crumbs from Graham crackers, topped with a luscious pumpkin cheesecake filling.
This bar makes for a successful dinner party dessert as it is so very easy to make, can be prepared well in advance, looks sensational and tastes divine!
The Final Easy Steps to This Divine Chocolate Pumpkin Cheesecake Bar Recipe
To make the layered bar, you'll require: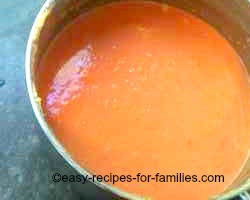 Step 1: Layer
Pour the cheesecake jello mixture into each of the molds.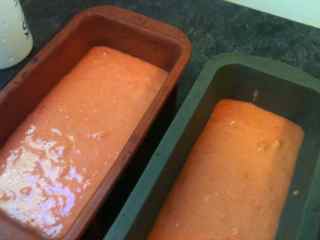 The chocolate base must still be a little runny so that the jello and base layers stick together. If the base has been chilled and is hard, the jello, once set, will just slip off.
Step 2: Chill
Chill in the refrigerator for 4 hours till the jello sets.
Step 3: Plate and slice
It's very easy to remove the pumpkin dessert if you've used a silicone loaf tin as a mold. Just pop it out of the loaf tin and place it chocolate side down on a chopping board.
Look at the lovely contrasting layers of chocolate and the firm orange pumpkin cheesecake jello.
Slice the cheesecake and chocolate bar into slices as desired. Once the bar is plated, it's ready to be dressed with ripe strawberries.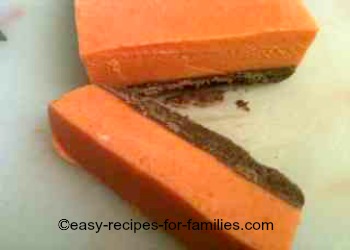 Now isn't this just lovely!
And it was so easy to make too.
Enjoy!
Truly, easy - it's another one of our really easy recipes.
This pumpkin cheesecake bar recipe is a lovely light dessert recipe, so cool and just right for those warm evenings. It looks sensational and is an ideal recipe for dinner parties. This recipe ticks all my criteria to qualify to go in my collection of recipes for entertaining:
looks sensational
tastes complex
delicious
easy to make
can be made in advance
All that needs to be done on the day of your party is to garnish the dessert with fruit and have cream or ice cream available to serve if requested.
This goes perfectly with...
Another glamorous recipe which is in our collection of easy recipes is this amazingly simple
polenta and ham mini pies
. They take minutes to put together and are sensational straight out of the oven as elegant appetizers.
About This Pumpkin Cheesecake Bar
When you make a pumpkin cheesecake, make a little extra cheesecake filling to use in this cheesecake bar recipe.
As you can see from the recipe, this has all the hallmarks of a cheesecake but we've used the graham crackers a little differently and spread them through a chocolate mixture rather than as a crumb crust.
The pumpkin jello is a no bake pumpkin cheesecake filling with condensed milk, cream cheese, pureed pumpkin and jello. What we've done here is to present the pumpkin cheesecake filling in a new way - on top of a choc base and as a bar.
The flavors will be familiar pumpkin cheesecake flavors. The twist is the new presentation.
---
Leave Pumpkin Cheesecake Bar Recipe and find loads of easy dessert recipes that taste sensational and yet don't take much effort at all!!