Elegant Easy Pumpkin Dessert
We're making an easy pumpkin dessert of crumb textured chocolate topped with a delicious pumpkin cream cheese jello. This dessert bar is sensational!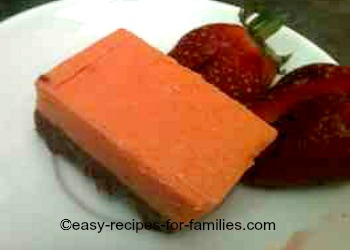 In this dessert tutorial, we'll make the pumpkin jello top.
We've just finished making the
chocolate base textured with Graham Cracker crumbs
and if you want to use fresh pumpkin, we've learned
how to cook butternut squash
for this recipe.
Make The Pumpkin Cream Cheese Jello Top For This Elegant Dessert
For this part of the dessert recipe, you'll require:
Pureed pumpkin
Sweetened condensed milk
Cream cheese
Orange Jello Crystals
Hot water
For the pureed pumpkin, either use canned pumpkin or learn
how to cook butternut squash
so that it is cooked just right for cheesecake puree.
Step 1:
Decant the condensed milk into a roomy bowl.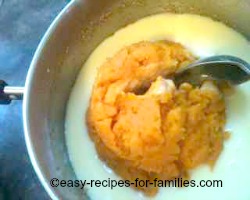 Add in the pureed pumpkin and the cream cheese.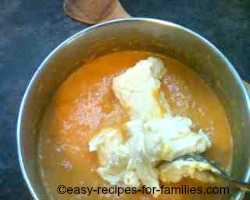 Stir to combine until the mixture is smooth and all the cream cheese and pumpkin are no longer lumpy.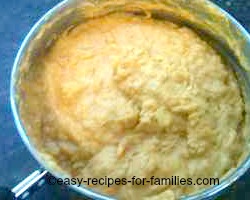 Step 2:
Make the jello
Pour in the crystals into a measuring cup. You'll notice here I've used the measuring cup that held the pumpkin puree. That's fine as you'll be pouring the jello into the cheesecake mixture.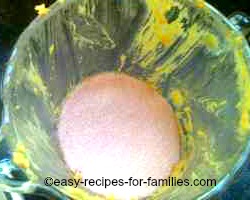 Add boiling water to make up 1/2 cup of jello, that is, add only half the recommended amount of water. We want the cheesecake mixture to be firm.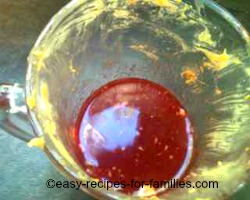 Part 3:
Combine
Pour this in with the pumpkin cheesecake mixture and combine well till smooth.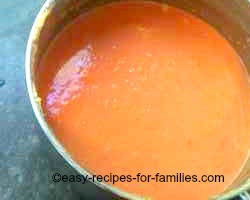 The cheesecake mixture is now ready for the next part of the dessert recipe.
This firm colored layer for this easy dessert is entirely a pumpkin with cheesecake mix. In this recipe we use the same ingredients as a cheesecake but present it differently, on a base of chocolate textured with Graham Cracker crumbs.
For this lovely dessert, we've made the
chocolate base
and it should be sitting in the mold at room temperature while the top layer is being made.
We're making an easy pumpkin dessert, with this delicious butternut squash cream cheese top, over a base of chocolate with Graham Cracker crumbs. It is scrumptious and looks sensational. This chocolate butternut cream cheese bar is another of our recipes ideal for an easy dinner party menu as it is so simple to make, can be made ahead of time and sensationally delicious! Thank heavens for easy recipes.
---
Leave Easy Pumpkin Dessert and learn from our step by step easy recipes. Check out our hundreds of recipes and meal ideas. There are loads of recipes like this, with step-by-step photo instructions.