Elegant Pumpkin Dessert Recipe
In this part of the tutorial for this delicious pumpkin dessert recipe, we'll make the chocolate base textured with crumbs from Graham crackers. This will be topped with a sensational pumpkin cheesecake jello and served as a pumpkin dessert bar or slice.
Graham crackers are plain, slightly sweet crackers also called digestive biscuits in the UK or whole wheat biscuits in Australia.
This recipe so easy and yet looks elegant and fits well in with our collection of easy recipes.
Here's how to make the choc base textured with crumbs
For this part of the recipe for the pumpkin dessert, you'll require:
5 Graham or Shredded Wheat Crackers - these are loosely textured and plain
3 oz/ 90 gm unsalted butter
10 oz/ 280 gm good quality chocolate
Step 1:
To make the crumbs, place the crackers in the unused plastic freezer bag and crush them with the base of a heavy saucepan till they're fine crumbs
You will require just 2 tablespoons of crumbs.
Crush the crackers till they are fine crumbs.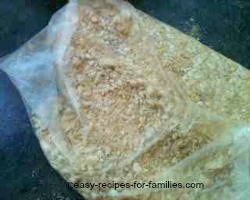 Step 1:
In a saucepan, melt together the butter and chocolate.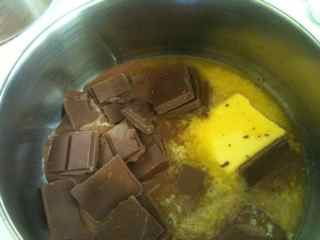 Add the crumbs and combine.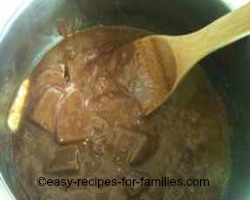 Step 3:
Pour this mixture evenly into the base of the two non-stick loaf tins.
Leave this at room temperature and it will set slowly while you tend to the rest of the recipe. Don't at this stage put the base in the refrigerator.
This recipe for a pumpkin dessert is incredibly easy to make. It is a variation on an easy pumpkin cheesecake and in this elegant dessert recipe, the bottom layer is a chocolate crumbed base topped with pumpkin cheesecake mixture set in delicious orange jello.
This dessert looks sensational! This dessert holds a worthy pace in the collection of easy recipes.
For all easy recipes, the quality of the ingredients must be the best. Use top grade eating chocolate as the quality will be reflected in the flavor and taste of the dessert.
The Graham Crackers or digestive biscuits are not the main feature of the base, as would be in a cheesecake. This dessert recipe has a bed of crumbed chocolate for texture and interest.
---
Leave Pumpkin Dessert Recipe and explore for more easy recipes for meals in a flash! There are loads of delicious simple no fuss meal ideas and recipes.