Pumpkin Roll Recipe

This heavy creamy and utterly heavenly pumpkin roll recipe is ideal as a dessert and like all our easy recipes, this is a dessert that is relatively simple to prepare.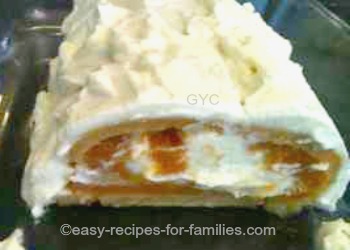 Rating:
Medium
Hands-On Time:
30 minutes
Hands-Off Time:
15 minutes
Ingredients:
6
Steps:
3
This roll recipe is simple but it does take some care to roll it and apply the cream. This joins our collection of easy dessert recipes and easy cake recipes.
Ingredients for a Pumpkin Roll Recipe
Our pages show step by step instructions on how to successfully make these already easy recipes. Just follow the instructions on the recipe and the major steps as in the photos.
If you're new to baking you may want to follow the "Learn How" Buttons to discover what exactly is required at each stage.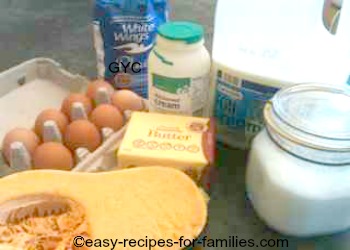 Equipment: Square baking tin, parchment or baking paper
Butter
Pumpkin Puree
Sugar
Eggs
Plain Flour
Cream
3 Steps To A Rich Pumpkin Roll
Step 1:
Make The cake.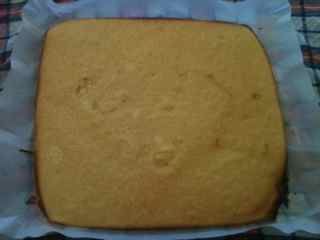 Step 2:
Start layering the pumpkin puree and cream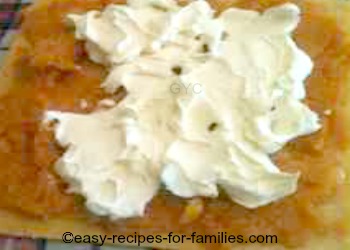 Step 3:
Roll up the cake with the layers of pumpkin puree and whipped cream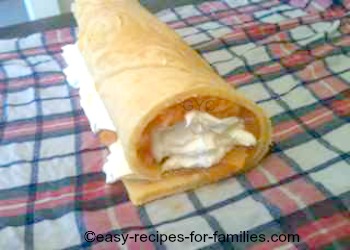 Finally spread whipped cream all over the top of the roll.
And that's it!
Refrigerate prior to serving.
This pumpkin roll tastes divine and makes a delicious filling dessert, full of creamy sweetness!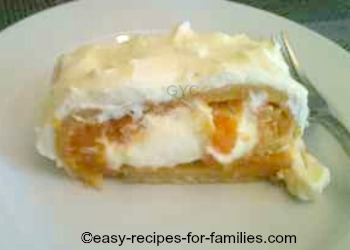 This Dessert Goes Perfectly With...
This pumpkin roll is a heavy creamy rich sweet dessert and is ideal to finish off a tasty savory meal like this incredibly easy to do and ever so delicious
roast pork with the perfect crunchy crackling
! Enjoy this meal plan with dishes that are so simple to prepare, taste sensational and absolutely look the part!
This recipe makes 1 rich, heavy, creamy log.
Just Add
Prepare

• 2 oz/60 gm butter

• 1/2 cup sugar

• 1/2 cup plain flour

• 2 eggs, beaten

• 1 cup sweetened pumpkin puree, from about 1 1/4 pound/600 gm fresh pumpkin

• 2 cups thickened cream




• Preheat oven to 360F/180C

• Line a square baking tin with parchment or baking paper

Prepare sweetened puree

• Trim the pumpkin, remove seeds and chop into large pieces

• Place the pumpkin in a sauce pan with 2 generous tablespoons of sugar and 1/2 cup water. Boil till very soft

• When cooked, drain well and puree

Make the cake

• Into a large saucepan, melt butter and sugar. Take it off the heat as soon as the butter has melted. Take care not to burn it.

• Keep stirring off the heat, to combine until the mixture becomes a thick yellow consistency.

• Add the flour, eggs and 1/3 cup of pureed pumpkin

• Combine well till it becomes a smooth batter

• Pour the batter into a lined cake tin. This is a very thin layer of batter. Spread it evenly

• Bake for 10 minutes. Remove from the oven as soon as it starts to brown

Spread the filling

• Wet a clean tea towel and lay it on a clear flat surface

• Holding the edges of the parchment or baking paper, lift the cake out of the pan and lay it on the wet tea towel

• Allow to cool

• In the meantime, whip the cream till it is thick and fluffy

• Trim the edges of the cake to make it a regular shape

• Score a line using the back of a blunt knife about 1 inch from the edge of the short side. This will help with rolling the cake

• Spread all the pumpkin puree

• Top with 1/2 the quantity of cream

Roll

• Roll gently

• Scrape away excess filling that will have spread out of the roll

• Spread the remainder of the whipped topping generously all over the pumpkin roll

• Chill till it is ready to be served



This pumpkin log makes a popular dessert as it is heavy, sweet and creamy.
Tips For This Pumpkin Roll Recipe
Even if you are using non-stick bake ware, please do not omit the step in this recipe, of lining the pan with parchment or baking paper. The role of the paper is to help lift the very fine cake onto the tea towel in preparation for rolling
Cooling on the wet tea towel helps maintain the moisture so that it will roll without cracking.
For this recipe, it is a good idea not to overfill the roll so don't be overly generous when spreading the filling.
Here's an easy trick for recipes that need to be presented carefully. To cover the creamy log without ruining its appearance, use a scaffold of toothpicks and lay the cling wrap over the toothpicks. Use this simple trick for any of our recipes.
---
Leave Pumpkin Roll Recipe to explore this site for hundreds of easy recipes for desserts, treats and tasty meals.