Pumpkin Roll Cake
Isn't this a sensational looking pumpkin roll cake. This is from our collection of easy recipes for desserts that look fantastic yet prepared with minimal effort.
You've joined us on this page, where we show you each step in making the cake batter for this sensational pumpkin roll. There are just 2 further steps to creating this delicious heavy creamy dessert.
If you'd like the full recipe, just click on the button:
Here's How to Make the
Pumpkin Roll Cake
For this part of the recipe, you'll require:
Equipment: Rectangular baking tin, parchment or greaseproof paper
2 ounces/ 60 grams butter
1/2 cup sugar
1/3 cup pumpkin puree
2 eggs, beaten
1/2 cup plain flour
Here's the easy way to measure the required amount of butter. Don't waste time weighing it. Just cut it up in proportion. If you require 2 ounces from a 4 oz stick, cut in half. If 2 oz is required from an 8 oz block, cut into quarters, and so forth, as in the photo below.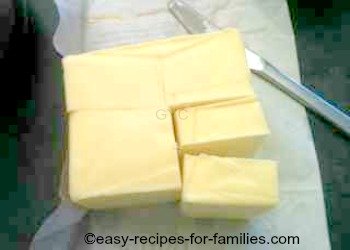 Preparation:
Preheat the oven to 350F/180C.
Part 1:

Melt butter in a large saucepan. Add the sugar and combine.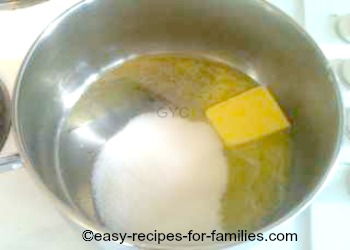 Take it off the heat as soon as the fat is close to being fully melted, taking care not to burn the mixture.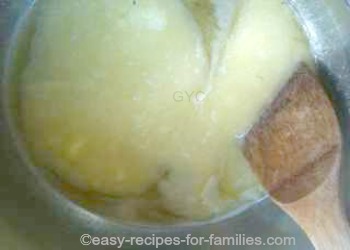 Keep stirring. The mixture will go from an oily mix to a thick smooth yellow mixture that is really quite thick just like in this picture.



Part 2:

Toss in all the other ingredients and combine well.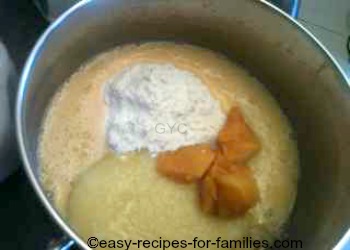 Combine well. The mixture will go from looking like a dry mess like this: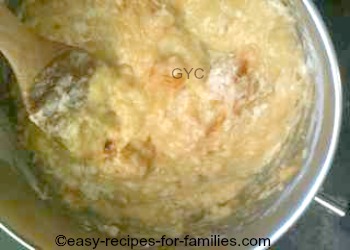 ... to a lovely rich smooth pumpkin batter like this:





In the meantime, line the cake tin with parchment or grease proof paper. The purpose of the paper is to lift the cake out easily straight from the oven, without breaking it.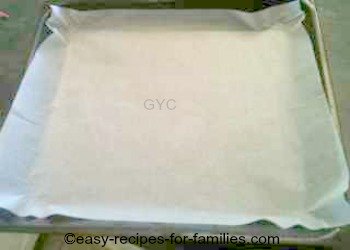 Part 3:

Pour the cake batter into the lined baking tray. Jiggle the tray about to level out the batter. It's only a very thin layer so you'll need to help it spread out to the edges.

Here it is, ready for for the oven.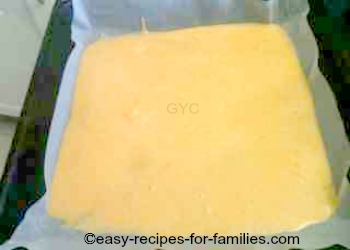 Bake for 10 - 12 minutes till it just starts to go golden.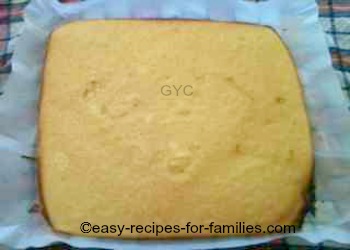 Remove it from the oven immediately. Don't let it over-cook.





---
Leave Pumpkin Roll Cake to discover incredibly simple to make easy cake recipes that look and taste sensational.