Pumpkin Bar Recipe

This pumpkin bar recipe is sensational - it is a chocolate pumpkin bar that's moist, heavy and has a mouth feel of chocolate!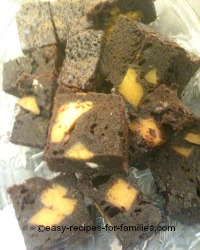 Look at this - aren't the contrast of colors just beautiful - the bright pumpkin orange set against dark chocolate!
Rating:
Easy
Hands-On Time:
30 minutes
Hands-Off Time:
30 minutes
Ingredients:
7
Steps:
3
Ingredients for A Scrumptious Pumpkin Bar
Equipment: Non-stick square or rectangular baking tray or 2 non-stick loaf tins
Diced cooked pumpkin
Butter
Chocolate
Dark brown sugar
Eggs
Plain flour
Cocoa Powder
3 Steps - Pumpkin Bar
This recipe is incredibly easy. If you're an experienced cook, just hop
straight to the recipe
or if you prefer to study what each step should look like, the tutorial with step-by-step photo instructions is very easy to follow.
Step 1:
Cook the pumpkin cubes and have it ready for the pumpkin bar recipe.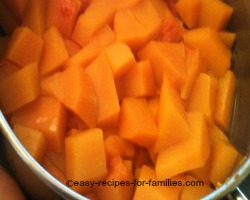 Step 2:
Make the cake batter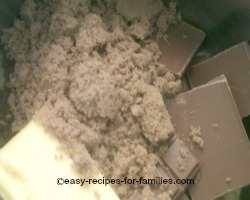 Step 3:
Layer the cake batter, pumpkin and top with the remaining batter.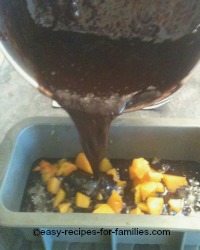 Beautifully baked!
Slice and enjoy!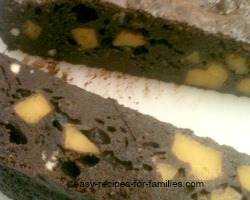 This Pumpkin Bar Goes Perfectly With...
This bar is ideal for snacks or for the lunch box or to bring along as a pot luck dish. Here's a super popular
homemade candy recipe the family are certain to love - Coconut Chocolate Cherry Bars.
This recipe makes 30 - 40 pumpkin bars.
Just Add
Prepare
• 1 cup diced cooked pumpkin

• 250 gm butter

• 8 oz/ 300 gm chocolate, broken into small pieces

• 1 1/2 cups dark brown sugar

• 6 eggs, beaten

• 2/3 cup drinking cocoa powder

• 2/3 cup plain flour



• Preheat oven to 360F/180C

• First of all, cook the pumpkin cubes. Be sure they are not over cooked. The cubes should be tender, but still retain their shape. Drain them well, then leave them for a moment while you prepare the cake batter

• Melt butter, chocolate and sugar together in a sauce pan. Take it off the heat immediately as soon as the ingredients have melted. Please take great care as you're working with hot liquid fat

• Keep stirring till the sugar and butter mixture becomes thick and well combined

• Add the beaten eggs, flour and cocoa powder. Combine well and it becomes a thick smooth batter

• Pour half the batter into the prepared baking tins

• Gently spoon in the cooked pumpkin cubes and spread them around gently

• Pour over the remaining batter.

• Bake for 30 - 35 minutes till the cake tester comes out clean.

• (Optional) Cool completely and thickly spread frosting on top


Cut into bars or slices, when cooled.
This is a very rich chocolate and pumpkin bar recipe - moist, rich and delicious!
Tips
Use silicone baking trays so as to eliminate the step of greasing and lining the baking tins.
The pumpkin needs to be just right for this lovely recipe - so, take the time to cut them into cubes and boil only for long enough that while tender, they still hold their form.