Recipe For Pumpkin
This recipe for pumpkin bars requires cubes of cooked pumpkin that are tender but not too soft. You want some texture to go with this wonderful, moist and very rich chocolate pumpkin bar.
Learn how to cook fresh pumpkin to make this divine, moist and super delicious
pumpkin bar recipe
.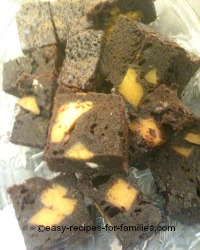 Here's how to cook fresh pumpkin for this special yummy bar.
Step 1:
Trim the fruit, removing all the outer skin; remove all the seeds, then rinse the cut pieces and dice into 1/2 inch cubes.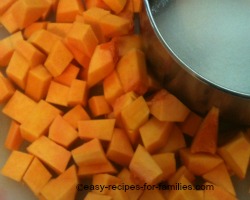 Step 2:
To cook the fruit, pop them into a saucepan with 2 heaped tablespoons of sugar and lots of water and boil till soft but the cubes still retain their form.
You don't want the cubes to be mushy.
When tender, drain away all the excess water, making sure there is no residual water. The cooked cubes should not be sitting in surplus liquid.
Leave this aside for a moment for use when the cake batter is ready.