Pumpkin Bar
Ok. Here goes...let's make the batter for this amazing
pumpkin bar recipe
.
Yep, it's a very rich bar of chocolate and pumpkin, moist, heavy and with a chocolate mouth feel. It's supremely delicious and so very easy to make.
We've just learned
how to cook fresh pumpkin
so that the cubes of cooked pumpkin are just right for this baar recipe. You don't want it too soft, nor mashed and it's been drained well.
Preparation:
Before we start, preheat the oven to 360F/180C.
Grease and line your baking pans, if they are the non-stick variety.
Ingredients
• Equipment: A roomy saucepan

• 8oz/250 gm butter

• 10 oz/ 300 gm chocolate, broken into small pieces

• 1 1/2 cups dark brown sugar

• 6 eggs, beaten

• 2/3 cup drinking cocoa powder

• 2/3 cup plain flour


Easy Steps
Step 1:
Melt together butter, brown sugar and chocolate
Pop together into a roomy saucepan, the butter, brown sugar and broken pieces of very good quality chocolate.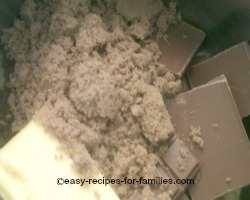 Stir the ingredients as it melts, combining them well. You'll notice the fat separating from the ingredients - it's a translucent film floating on top of the dark choc compound and brown sugar.
But keep stirring till the melted butter is thoroughly combined into the mixture.
Take it off the heat as soon as it is melted and turn it OFF.
Again, keep stirring to combine the mixture.
CAUTION:
Now, take great care as you're heating fat. Don't leave the pan. Keep watching it to make sure there are no spills and no spitting of fat.
Take care the children are not around.
Hot liquid fat is extremely dangerous and causes terrible burns.
As you can see, from this photo, the mixture becomes a thick brown slurry, beautifully combined as it is heated and stirred.
Step 2:
Now, throw in:
the plain flour
the cocoa powder
the beaten eggs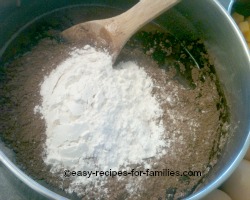 Yes, you've pre-empted me.
Stir to combine well.
Step 3:
Combine till smooth.
See how it's gone from chunky and dry when the dry ingredients were included ...
...to a lovely, thick, smooth batter.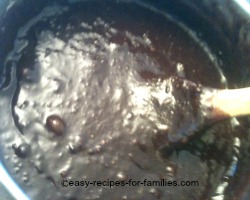 Now, the pumpkin and batter are ready for the next stage where it's poured into the baking pans and the pumpkin layer added.
Tips for this terrific pumpkin bar:
In making this bar, you will notice I melt chocolate in a saucepan right on the heat. A lot of recipes call for fussy procedures where chocolate is melted in a double boiler.
I did this once and have found melting it directly gives exactly the same result. So, here we are with this bar - we process melted chocolate directly over the flame.
But without question - please take great care.