Recipe For Pumpkin Bars
This is the final stage for the special recipe for pumpkin bars. At the conclusion of this stage of this pumpkin pie recipe, you'll have plated this very attractive dark chocolate and bright pumpkin bar.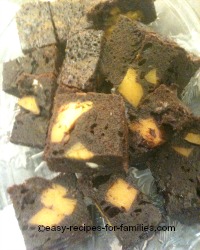 You'll require:
Layer The Batter
Step 1: Pour batter into cake pans
Pour half the batter into the non-stick or lined and greased baking tins.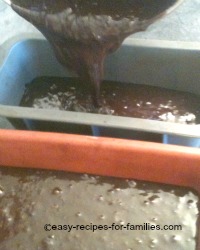 Notice I use 2 loaf tins, and that is because I save the other bar to freeze for later consumption. But please go ahead and pour it into a square or rectangular baking pan.
Step 2: Pumpkin
Now, gently spoon in a layer of the cooked and well drained pumpkin cubes.
For bars to be successful, the fruit must not be soggy and in this instance, we want to see the contrast of colors with the pumpkin and dark chocolate.
That's why we layer them at the end rather than mixing them through the batter for the bars.
Spread the cubes aroung evenly.
Step 3: Top with more batter
Pour the rest of the bars batter into the baking pans.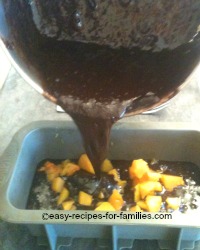 Step 4: Bake
Hopefully, the oven's been preheated to 360F/180C. The air temperature in the oven needs to be evenly hot so that your pumpkin bars bake evenly.
Leave it to bake for 30 - 35 minutes.
The bars are ready when the inserted cake tester comes out clean.
Don't be tempted to leave it for just another few minutes as these delicious pumpkin bars are perfect if the center is just a wee bit undercooked.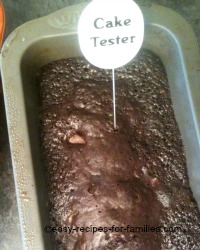 Step 5: Slice and enjoy!
Leave the bars to rest for 10 minutes while it cools.
Slice it into bars.
Just look at the lovely juxtaposition of colors - bright orange and dark chocolate!
...and the lovely sharp angles of the cubes of pumpkin!
Arrange the bars beautifully on a lovely platter and serve.
This is an excellent recipe for freezing. The bars are just as delicious and gorgeous to look at when thawed.
More delicious treats and bars
Here's another treat my family loves and it disappears into tummies in no time at all! For an afternoon, snack, make several of these
little ham and egg "pielets"
to freeze and defrost for later use.