Mum made Mary's delicious easy zucchini bread recipe, for the family lunch last week and it was polished off within minutes. This certainly passed the popularity test!
It is so simple as it just requires combining the ingredients in a pot and then baking.
Easy Zucchini Bread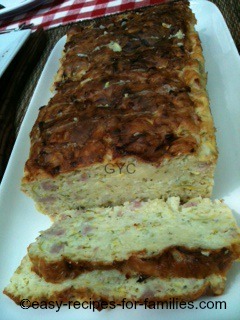 It is much yummier when baked in muffin trays.
Easy Zucchini Bread Recipe

This recipe makes 1 loaf or 6 large muffins.
This zucchini bread is ideal as a sides or a dish to bring along for a pot luck lunch.
This recipe calls for 5 bacon rashers, but for our vegetarian friends, replace this with 2 zucchinis and 1 carrot.
Just Add
Prepare
• 2 zuchinni, shredded

• 2 cloves garlic, diced very finely

• (Optional) 5 bacon rashers, diced finely OR additional 2 zucchinis and 1 carrot, diced finely

• 6 eggs, beaten

• 2 cups self raising flour

• 1 cup shredded tasty cheese

• salt and pepper to taste

• 1 tspn mixed herbs




• Preheat oven to 360C/180C

• Put all the ingredients together in a mixing bowl and combine well

• Spoon the batter into a silicone loaf tin or muffin trays

• Bake for 45 minutes till golden brown and the cake tester comes out clean

• If using muffin trays, bake for 20 minutes.


This is so very quick and easy to make.
The zucchini bread can be served hot or cold, as you wish.
Now, how easy was that!
~~~~~~~~
Tip
If you don't have a vegetable shredder, just chop zucchini finely.
For non vegetarians, the addition of bacon pieces, makes the loaf very tasty.
~~~~~~~~
For more easy vegetarian meals:
Easy Vegetarian Recipes - Pasta with Sun Dried Tomatoes and Olives
Pasta Salad With Olives, Artichokes and Rocket



Wishing you happy cooking!
For more Quick Easy Recipes:
---
---
Top of Page Easy Zucchini Bread Recipe


Go To: Easy Veg