Easy Potato Recipes
Creamy Potato Bake


This has to be the simplest yet tastiest of easy potato recipes. All it requires is layering finely sliced potatoes with my easy white sauce, then topped with shredded Parmesan cheese and then just pop it in the oven.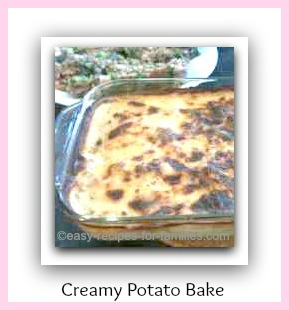 Creamy Potato Bake

This recipe is a sides for 6- 8 servings.
You'll need:

• 5 large potatoes, peeled

• 1/3 cup good quality cooking oil

• 4 heaped tbsp plain flour

• 4 heaped tsp stock powder

• 4 1/2 cups milk

• 1 cup Parmesan Cheese

Here's how to put together this delicious potato dish:

• Preheat oven to 400F/200C

• Slice the potatoes finely then make the white sauce

• Heat the oil in a sauce pan and add flour and stock powder

• Mix together well and cook for a couple of minutes. The mixture will clump together

• Pour in milk all at once

• Keep stirring till the milk mixture thickens and all the flour is well blended and smooth.

• Layer the sliced potatoes in a rectangular glass baking tray. Top with the thick white sauce

• Arrange another layer of sliced potatoes and top with the white sauce, taking care to cover all the potatoes with the sauce.

• Sprinkle the top with Parmesan Cheese

• Bake for 35 minutes till golden brown


I'm sure you'll find that this is the simplest of easy potato recipes and it cooks perfectly with a white sauce is not too runny.
I've served this dish at my dinner parties and it always looks tasty and inviting and the bake slices firmly and always stays in shape.
Tips From Easy Recipes

I prefer to use oil rather than butter so as to reduce our consumption of cholesterol. Use a monounsaturated oil like sunflower oil or rice bran oil.
If you really are after easy healthy recipes, do look out for recipes to make in the oven.  Oven cooking makes our busy lives so much easier as you can get on with doing other "stuff" while dinner's being baked.
---
Leave Easy Potato Recipes to browse through hundreds of delicious easy healthy recipes to WOW the family!