An Easy Vegetable Recipe

Delicious Quick Winter Greens


This easy vegetable recipe is only just cooked so that it retains its freshness and crunch. The objective when cooking vegetables is not to overcook them.  You'll have to read below to find out the secret to this quick and easy recipe.

Quick Winter Greens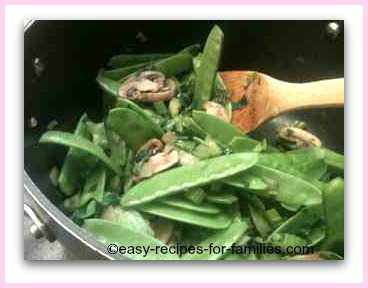 It looks divine as a sides with a hero main meal, or for a healthy meal, have this dish on its own with rice or quinoa.
I served this healthy recipe at my dinner party last night.
Absolutely yummy!
Ingredients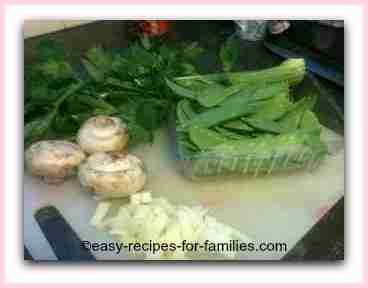 Delicious Quick Winter Vegetables


This recipe is sufficient as sides for 4 - 6 persons.

The ingredients:


• 1/2 tbs oil

• 1/2 onion, diced finely

• 1 1/2 sticks celery, including the leaves, diced finely

• 5 large mushrooms sliced finely

• 8 oz/ 250 gm snow peas, washed and trimmed

• salt and pepper to taste




Here's how to put the recipe together:


• Heat oil in a hot fry pan

• Fry onions till soft

• Add in celery and mushrooms. Cook quickly till the mushrooms are soft - about 5 minutes

• Turn off the heat

• Stir through the snowpeas

• Add a dash of salt and pepper. Stir through

Serve immediately while hot.
This vegetable recipe is so very delicious. It's not only the taste and fresh flavor, but also the crunchiness of the celery and snap of the just cooked snow peas.
Tips From Easy Recipes

Do not season the mixture of vegetables until the mushrooms are cooked as otherwise they sweat. Season only after the mushrooms are well cooked.


The secret with this dish is NOT to cook the snow peas. All that is necessary is to stir them through the hot vegetables as there will be sufficient heat from the pan to warm through the vegetable.
---
Leave Easy Vegetable Recipe to explore for hundreds of delicious easy healthy recipes, so tasty and full of flavor.
Back to Easy Vegetable Recipes