Funky
Wooden Serving Tray

Use this beautiful wooden serving tray as a serving platter. Remember it's all about presentation! Your pie, tart or cake will look divine on this quality product.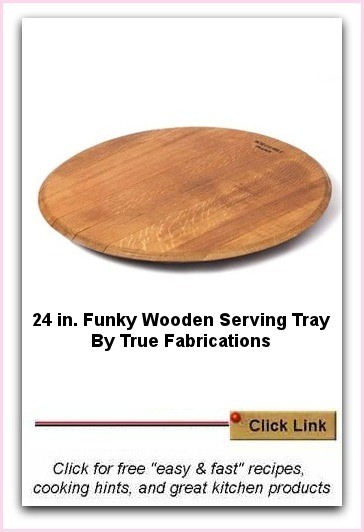 Click Here For More Details

True Fabrications Used Wine Oak Barrel Serving Tray (used in wine production 2-5 years)

About This Wooden Serving Tray

True Fabrications is a company located in California that makes wine accessories and wine products.  This wooden platter or serving tray is wine soaked being made from oak wine barrels that have been in the production of wine for two to five years. Smell the aroma of the heart of the Californian wine country.
Don't you just love items that find another use and this works beautifully as a wooden serving platter.
Reviewers share:
While the advertised dimension is 24 inches, it measures 21.5in.
It is not a Lazy Susan. It is a tray.
Reviewers have complained about the packaging

Tips from Easy Recipes

Remember, while I've shared with you my secrets in how to make cooking real easy and yet completely delicious, the key to make anything appetizing is in the...
Presentation
This goes for any cooking - you can spend hours slaving away at gourmet recipes, but if presented poorly it is simply unappetizing.
So, go for the best when it comes to serveware, tableware, flatware and glassware.

... and try not to be predictable... just like using this wooden tray as a platter.

I don't spend hours in the kitchen but I do spend time enjoying a beautiful meal with family and friends. Make it nice!

---