How To Cook Quinoa Easily

Let's learn how to cook quinoa, then make a delicious quinoa salad.
Rating:
Not difficult
Hands-On Time:
20 minutes
Hands-Off Time:
0 minutes
Ingredients:
3
Steps:
1 - but you need to watch that the it does not overboil
Ingredients To Cook Quinoa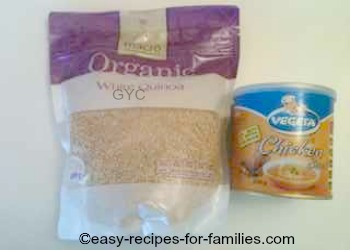 Equipment: A roomy saucepan
Qunioa grains
Water
Stock powder - vegetable or chicken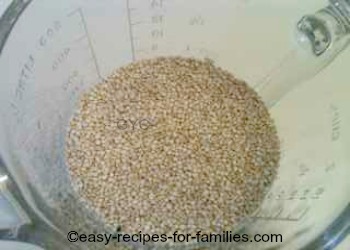 Place the quinoa in the saucepan.
Rinse the grains. It's been said that the extensive bubbling on washing, is the washing out of enzymes that may cause bloating.
See the bubbling. You'll notice that the bubbles will reduce after each rinse.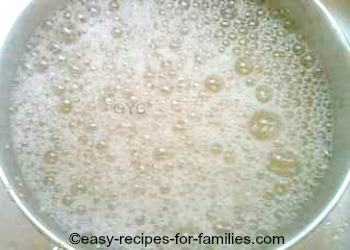 See in the photo, the water's now clear, after 3 rinses.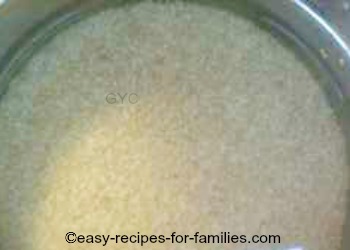 Add water and stock powder.
Cook on high till it is at a rapid boil.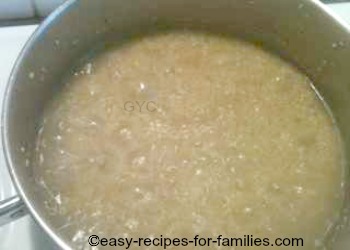 As soon as it rapidly boils, turn the heat down to a low simmer. Now, if you're using an electric cook top, this will take time for the plate to cool, so to help cool the cooking quinoa, tip the lid open a little just like the photo.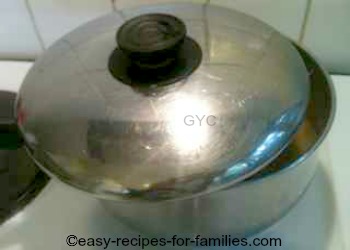 Replace the lid and continue to cook on a low setting till all the liquid is absorbed.
The cooked quinoa looks like this.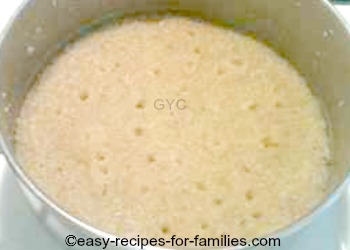 Cool for 5 - 10 minutes, then fluff up with a fork.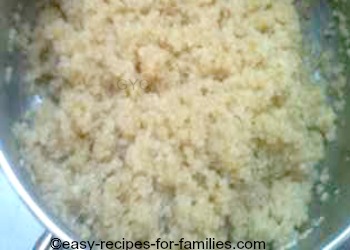 Here's what I made with quinoa...
Check out this very attractive and delicious Quinoa Salad made with pomegranate seeds, chick peas, bell peppers, parsley and baby beets. Just sensational!
Quinoa Salad

Here's another
quinoa salad that's just superbly delicious, made with sweet potato and cherry tomatoes!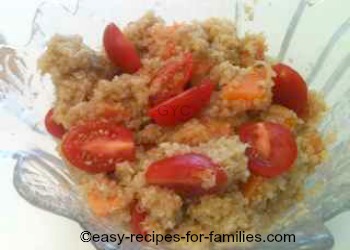 Makes 4 servings of sides.
Just Add
Prepare
• 1 cup quinoa grains

• 3 cups water

• 3 ts chicken or vegetable stock




• Place the quinoa in a roomy saucepan

• Rinse till clear

• Add in water and stock powder

• Give it a stir to combine a little

• Cover with the saucepan lid and turn on the heat to high till bubbling

• Turn the heat down to cook at a quiet simmer. Just watch that it does not boil over and mess up your cook top

• Keep keep the pot covered at a gentle simmer till all the liquid is absorbed

• Remove from heat and leave covered for 5 - 10 minutes. Fluff with a fork


Quinoa grains are used as tasty sides and in delicious salads.
Tips
Some cooks have found cooked quinoa a little too soggy for their liking and pop it in the fridge for a few hours to dry out.
If using an electric cooker, to finely control the temperature of a low simmer, it helps to tip the saucepan lid open a little resting it on the handle while covering most of the pot. This cools it while the temperature of the electric cooker is reducing. Once cool enough, replace the lid and simmer as normal.
I'd say that cooking quinoa while an art, it can be easy by following the easy instructions on this page.
---
Leave How To Cook Quinoa to explore loads of tasty easy recipes for sensational meals!