Sophisticated
Baked Pumpkin Apple Salad
This is a sensational baked pumpkin apple salad. Just look at this - it tastes as inviting as it looks! It says elegance and sophistication.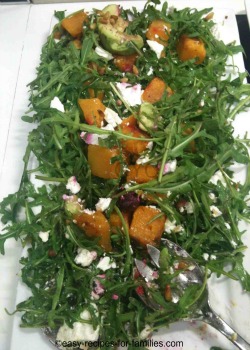 This salad is about the contrast in flavors and textures of the soft sweet baked pumpkin vs the crunch of a fresh apple; the peppery taste of salad greens vs the sweetness of baked pumpkin.
Rating:
Very Easy
Hands-On Time:
10 minutes
Hands-Off Time:
0
Ingredients:
9
Steps:
1
Ingredients for a Baked Pumpkin Apple Salad
1 cup of roasted pumpkin pieces
1/2 cup of beetroot diced
8 cups of loose Rocket or Arugula or Mizuna Leaves
1 apple diced
1/4 cup feta cheese, crumbled
1/2 cup pine nuts roasted
1 Avocado, cut into strips
Balsamic Vinegar
Good quality olive oil
Here's how to create this sensational salad
Toss together all the ingredients on a serving platter.
Drizzle olive oil and balsamic vinegar over the salad, as suits your taste.
Toss and serve.
Selection of Salad Ingredients
This lovely salad is about the contrast of flavors.
Baked pumpkin and not stewed pumpkin is used here for the concentrated sweetness of the caramelized pumpkin flesh that results when baked.
To bake pumpkin pieces, chop them into chunks with the skin intact. Oil them before being baked by either spraying with vegetable oil or rolling the pieces in oil. The baked pumpkin browns and caramelizes beautifully in a hot oven at 390F/200C. Depending on the variety of pumpkin, this may take 45 minutes or so.
We have Feta Cheese and beetroot for their sweet tartness while the avocado is for a smooth mouth feel contrasted with the crunchy roasted pine nuts.
The ideal leafy greens for this sophisticated salad is lettuce with a slightly bitter, slightly peppery taste, such as Rocket or Arugula. This variety of greens is very popular in Mediterranean cuisine and you'll find it sold as loose leaves.
A good alternative, Mizuna, also known as Japanese Mustard Greens has long lobed pointy leaves and looks very similar to Arugula. The taste is much the same, peppery and slightly bitter although not quite as strong.
Select a fresh crunchy green apple for this salad recipe as the use of apple here is for the contrast in texture - crunchy apple vs soft baked pumpkin and soft avocado.
---
Leave Baked Pumpkin Apple Salad to browse through and find inspiration from hundreds of delicious easy recipes!