Easy Bread Recipe
No Yeast Cheese and Ham Loaf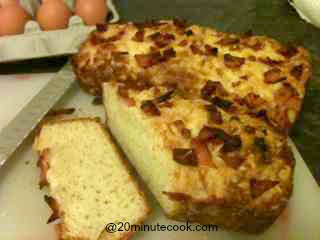 This is a really easy bread recipe that is a no fuss, no yeast savory bread. You don't even need to rub in the butter into the flour.
Just pop all the ingredients in a pot, combine well with a wooden spoon and spoon the batter into a loaf tin. This bread freezes well, so make a couple and save one for another week.
I've found this savory loaf to be ideal for lunches and snacks.


Absolutely yummy!

Delicious No Yeast Savory "Bread"

This recipe makes 2 loaves and is even more delicious with cooked bacon.
It is ideal as a sides, snack, or as savory bread for lunch or a picnic.
No Yeast Ham & Cheese "Bread"


You'll require:


• 80 gm butter

• 3 cups self raising flour

• 1 tbsp sugar

• 1 tsp salt

• A generous shake of pepper (to taste)

• 3 cups of shredded tasty cheese

• 1 cup milk

• 1 egg, beaten

• For the topping, 2 slices of ham, diced roughly and 1 cup shredded tasty cheese

• Preheat oven to 360F/180C

• Melt butter in a large saucepan

• Add flour, sugar, salt and pepper and combine well till the mixture comes together

• Add beaten egg, milk and 3 cups of shredded cheese. Add another good shake of pepper

• Combine well, then place batter into cake "tins". I use 2 silicone bake-ware (loaf tins).

• Top each with the additional diced ham and shredded cheese

• Bake for 35 minutes till golden brown

This tasty no yeast bread is delicious served on its own and perfect for lunches and picnics.

This truly is an easy bread recipe.
Tip

Use a non-stick bake ware so as to minimise work in cooking in lining and greasing baking tins and also to reduce our consumption of fats and oils.
---