Easy Apple Pie Recipe
This super easy apple pie recipe is a 4 ingredient recipe - store bought puff pastry, tinned pie apple, caster sugar and egg for the egg wash. We make the pastry into turnovers or small round pies. It really makes a quick, simple tasty snacks to have available for the kids.


Incredibly Easy Apple Pies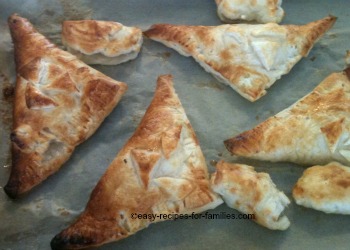 Just 4 Ingredients!
Fold Over To Make A Triangle
Easy Apple Pie Recipe
This recipe makes 12 little triangles or if you want to be adventurous, cut circles using a small saucer as a template. 6 sheets will produce 8 small rounds, that's 4 little round pies.
Just Add
Prepare
• 6 sheets of store bought puff pastry

• 1 tin/ 7 oz/ 200 gm pie apple

• 6 tbsp sugar

• 1 egg, beaten



• Preheat oven at 390F/200C

• Cut each sheet of pastry into 4 squares. Or, if you wish cut circles of 5 inch diameter, using a small saucer as a template. The 6 sheets of pastry will make up just 8 circles altogether.

• Place some of the pie apple in the middle of the of the square. Make a little mound.

• Sprinkle over with sugar

• Moisten the edges with a little water and fold over so that it forms a triangle. Seal the edges with your fingers or fork tines. Cut little slits in the top to allow heat to escape. Decorate with tiny pastry balls or leaves as you wish

• Brush beaten egg all over the dough. This makes it brown beautifully. Sprinkle some more sugar over the top


Bake
Bake for 30 minutes till golden brown
It is perfect!
Golden and delicious!
Now, how easy was that!
Serve immediately with ice cream.
Tip
This is best served fresh out of the oven. The puff pastry is then at its best, all crunchy and hot.
Save the cut offs by rolling it into a ball and store in a freezer bag in the freezer. When needed, just defrost and roll it out into sheets.
If you have Demmerra sugar, sprinkle this coarse sugar over the top. Don't worry if you don't have any.