Quinoa Recipe
Salad With Sweet Potato

You'll love this delicious yet so easy quinoa recipe. It's a salad with roasted sweet potato and grape tomatoes. Sensational!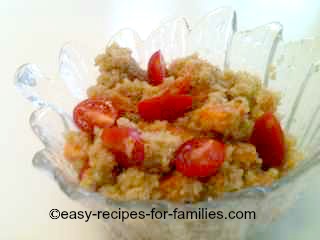 This recipe is made from our favorite food - yams or sweet potato, so sweet and yummy and tossed into the healthy super grain, Quinoa.
I just love easy recipes just like this where it takes no effort at all to whip up a delicious healthy meal.
Rating:
Very Easy
Hands-On Time:
30 minutes
Hands-Off Time:
0 minutes
Ingredients:
5
Steps:
3
Ingredients For Quinoa With Sweet Potato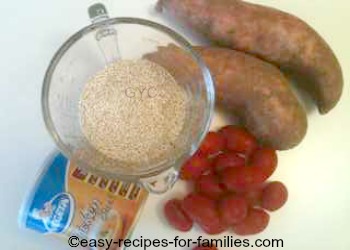 Equipment: A lovely salad bowl, roasting pan, saucepan
Quinoa grains
Water
Stock powder
Yam
Grape Tomatoes
Lemon juice, salt & pepper to taste
Step 1: Cooking Quinoa Perfectly
Click on the button to learn how to cook the grains perfectly.
The illustrated recipe tutorial will teach you how to produce quinoa that is not gluggy, a common problem.
Step 2: Roast the Yams to perfection
Click on the button to learn how to roast sweet potato for this recipe with quinoa. Do this while the quinoa's cooking.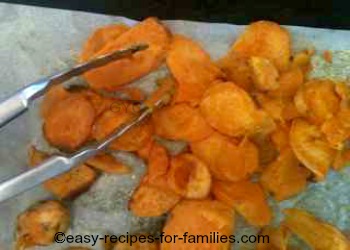 Step 3: Final Step for this Recipe
Quinoa Salad
Now for the final step.
Click on the button to learn how to make this easy recipe scrumptious.
Doesn't this look just sensational!
This Quinoa Salad Goes Perfectly With...
…this very delicious yet incredibly easy
homemade pumpkin pie with feta cheese.
Tasty easy recipes really don't get any simpler. Enjoy!
Quinoa Recipe With Roasted Yams
Makes sufficient for a 8 servings of sides.
Just Add
Step 1: Cook Quinoa
• 1 cup of quinoa grains

• 2 1/2 cups water

• 2 heaped ts stock powder




• Place the grains in a saucepan, add water and stock powder

• Bring to boil then reduce to simmer till the liquid is absorbed

• Leave covered for a further 5 - 10 minutes

• Fluff cooked quinoa lightly with a fork


Just Add
Step 2: Roast Sweet Potato
• Sweet potato about 5 - 6 inches long

• 2 tbs cooking oil

• salt & pepper to taste




• Preheat oven to 390F/200C

• Peel the tuber, rinse and cut into 1 inch thick slices

• Roll the slices in the oil with salt and pepper to coat thoroughly

• Place on a baking tray lined with parchment paper and bake for 20 minutes till it's soft but still just a little firm in the center. That is, don't overcook the yams

• Cool, then dice into small chunks


Just Add
Step 3: Make the Salad
• Roasted Yams

• Cooked quinoa

• 10 grape or cherry tomatoes

• 1 ts lemon juice

• (Optional) 1/4 cup goats cheese, diced




• Halve the little grape or cherry tomatoes lengthwise

• Toss the cooked and fluffed quinoa, diced roasted tubers and tomatoes into a salad bowl

• Sprinkle with lemon juice

• Lightly toss to combine the ingredients and seasoning

• If you have goats cheese or a little feta cheese in your refrigerator, crumble some over the salad

• Serve immediately


Enjoy this fabulous quinoa recipe. It's another from our collection of simple to make recipes and it really is just fabulous!
---
Leave Quinoa Recipe and discover hundreds of scrumptious easy recipes with photo instructions!