Cooking Quinoa For Salads
Cooking quinoa for salads requires the grain to be cooked a little firmer. I'd suggest not using the packet's recommended instructions.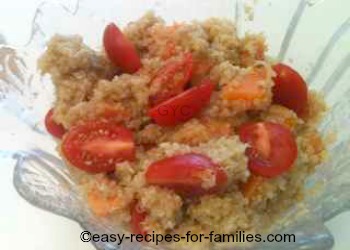 On this page, we learn to cook quinoa so that it has a slight crunch and is suitable for salads. We don't follow the recommended instructions of 3 cups of water to 1 cup of grains as it produces a soggy product and quite unpleasant.
The process is easy once you've mastered controlling the temperature while cooking.
Ingredients To Cook Quinoa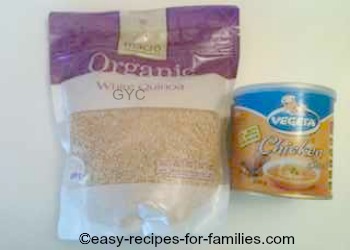 Equipment: A roomy saucepan
1 cup Quinoa grains
2 1/2 cups Water
2 heaped ts Chicken stock powder
Place the quinoa in the saucepan.
Rinse the grains till the water runs clear
Add 2 1/2 cups water and stock powder.
Cook on high till it is at a rapid boil.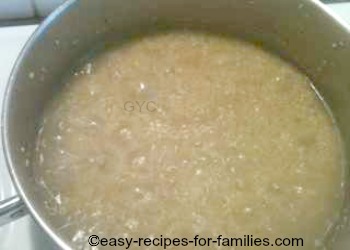 Turn the heat down to a low simmer, once it's boiling furiously. To control the temperature, use techniques such as this, where you only partially cover the pan.
The quinoa is cooked when all the liquid is absorbed.
It looks like this.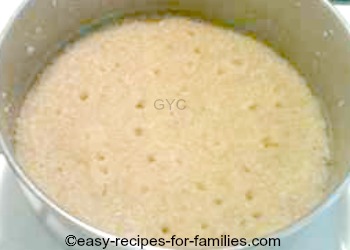 Leave on the lid and cool for a further 5 - 10 minutes, then fluff up with a fork.
Once cool, the cooked quinoa will be ready for the salad. Cooking till there is a slight crunch is an art. Once mastered, the process is easy.
---
Leave Cooking Quinoa and be inspired by hundreds of scrumptious yet so easy recipes!