Tarte Tartin Without Scales
A Photo Tutorial

Here's how to make this delicious Pumpkin Tarte Tartin Without Scales. It's incredibly easy.  Tarte Tartin is essentially, an upside down pie!
...and don't worry if you don't have scales - there's nothing to measure here except with tablespoons.

Ingredients for Pumpkin Tarte Tartin Without Scales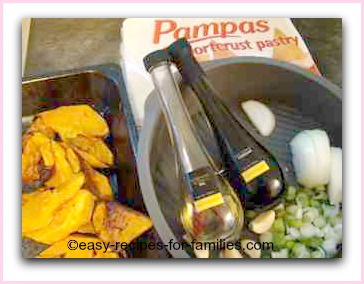 You'll require:
a non-stick silicone cake mold
20 slices of roasted pumpkin, sliced into thin wedges. This is about half a smallish sized butternut squash

1/2 onion in wedges

7  whole cloves garlic
1/2 c diced spring onions
2 sheets short crust pastry (store bought)
2 tb balsamic vinegar
1 tb herbed olive oil
1 tbs brown sugar or golden syrup
Here Are the Simple Steps

Scatter the onions, garlic and spring onions into the base of the cake mold and mix in the oil, balsamic vinegar and golden syrup (or brown sugar). Combine and evenly spread the ingredients around the base like in the photo.

Next, layer the wonderfully roasted garlic infused pumpkin slices in a circular pattern around the base. Now, if you'd like to learn how to roast pumpkin, click on the photo.

Take a sheet of store purchased short crust pastry and place it directly over the pumpkin, tucking in and folding in the corners so that it makes a nice round shape.
Don't worry if it looks untidy. No one will see the base anyway and it tastes just fantastic!
Use your fingers and press the sheet firmly to the shape of the ingredients underneath.
Do the same with the second sheet of pastry. See how it looks all lumpy. That's the way it should look after pressing firmly around the vegetables.
Brush the pastry with a little oil. This helps brown it nicely.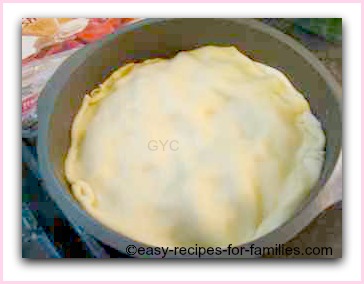 Bake for 30 minutes till golden brown.
When cool, upturn by placing a plate over the cake mold and flip it over so that the pastry top now becomes the base, and the ingredients on the base, are now at the top.

I served the slice of tarte tartin with a dollop of greek yoghurt and some spring onions to garnish.
Doesn't that look sensational!

Tips From Easy Recipes

The wonderful thing about this Tarte Tartin recipe (and for that matter, all our easy recipes) is that the ingredients and processes are not so precise that kitchen scales are mandatory. It's not. It's just a combination of the lovely flavors and the simplicity and freshness of the ingredients that really make this dish.
You're welcome to go through most of our Easy Recipes. You'll find most have measures in cups rather than in grams or ounces. We're simply not precious about the weighing of ingredients on scales and our recipes always turn out just lovely.  Frankly, that's how our grandmothers cooked, without scales and they must be doing something right as we love their meals and treats.

I've found that for this heavy Tarte Tartin, short crust pastry holds its shape and is a better texture match, than puff.
The whole garlic cloves are so sweet and delicious when roasted - they don't have a garlicy taste at all.
Take care NOT to use a flan or cake pan with a removable base as the lovely seasoning will just drip out.

---
Leave Tarte Tartin Without Scales to be inspired by hundreds of delicous yet so easy recipes!