Easy Pumpkin Cheesecake Recipe
This is the final stage of the easy pumpkin cheesecake recipe, which we've made from scratch.

At the conclusion of this stage of this easy cheesecake recipe, you'll have plated this very attractive light cheesecake.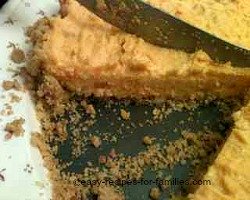 In this easy to follow photo tutorial, we've learned
how to cook fresh pumpkin
to make the cheesecake filling and we've made the crumb crust from scratch.
For this stage, you'll require:
Step 1:
Here's the cheesecake filling, freshly prepared and combined till it is smooth.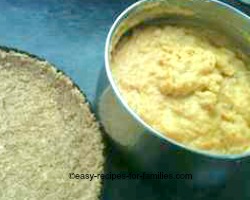 Step 2: Fill
Spoon the filling into the crumb crust, leveling it off with a knife.
Pop it in the refrigerator for at least 4 hours to chill and firm up.
Once the pumpkin cheesecake has set, remove the walls of the flan and place the bottom with the cheesecake on a lovely platter.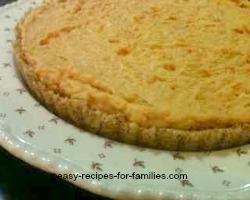 Slice and serve this no bake easy pumpkin cheesecake for dessert or as an excellent snack for afternoon tea.
Now, wasn't that easy!
For this recipe, I've used half the usual quantities for cheesecake and have made it in a shallow flan pan, in an attempt to reduce the serving sizes for our family dessert. We all love something sweet after dinner, and we all love cheesecake, so cutting down portion sizes assists a little in controlling calorie consumption.
We're careful with what we consume and often, (though not frequently enough) take the trouble to prepare our foods from the basic source rather than from a processed source. For example, you could start with a store bought crumb crust and you could use cans of prepared pumpkin, but concern for healthy eating means I would prefer not to consume preservatives and trans fats that are common in processed foods.
---
Leave this easy pumpkin cheesecake recipe and discover hundreds of delicious easy recipe ideas for meals and treats that you can whip up with little effort!