Easy Pumpkin Cheesecake
This very delicious no-bake easy
pumpkin cheesecake recipe
is made from scratch. Follow these easy step-by-step photo instructions to prepare fresh pumpkin.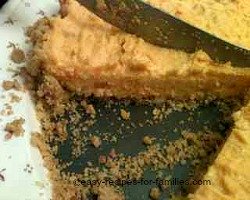 In the first step, we prepared the crumb crust from crushed wheaten crackers and the prepared crust has been left in the freezer to set while we attend to the rest of this easy cheesecake recipe.
In this section we'll learn how to cook fresh pumpkin.
Here's how to cook a pumpkin
Step 1:
Trim, remove seeds, wash, cut into chunks
For this recipe, we need to make up 2 cups of mashed pumpkin. This will require 2 pounds or 1 kilo of the fruit.
Fresh pumpkin is much easier to handle when it is cut into chunks. So, firstly, cut up the fresh fruit into large regular sized pieces and then trim off the outer skin.
Remove the seeds and discard.
Rinse the chunks of fruit then dice it up into smaller chunks.
For this easy cheesecake recipe, the pumpkin will be pureed so there's no need dice the pieces into regular sizes.
Step 2:
To cook, pop them into a saucepan with lots of sugared water and boil till very tender.
Place 2 heaped tablespoons of sugar into the cooking water. The fruit will absorb the sugar and your cheesecake filling will be just delightfully sweet.
As to the amount of water, I've found this varies with the variety of pumpkin and its ripeness. But as a rough guide, add water till it reaches about 3/4 level of the fruit in the pan.
Turn the heat to high and bring to a rapid boil.
Turn down the heat to medium, and keep boiling till the fruit is very soft.
Because it absorbs water at different rates, it is best to check the water levels to ensure the pot does not run dry. Just add more HOT boiling water, if required.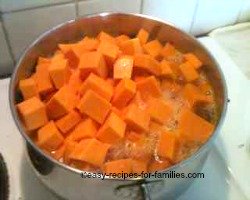 Step 3:
Puree the pumpkin using a blender or potato masher. I find that there's such a small amount that a masher will does the job just fine.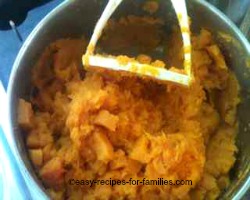 Do a taste test and add more sugar if it suits your taste.
The fresh pumpkin prepared for this easy pumpkin cheesecake is now ready to be combined with the cream cheese and other cheesecake ingredients.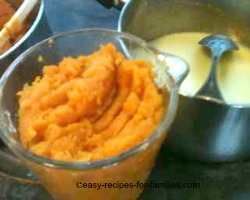 The recipe:
Pumpkin Cheesecake Recipe
The previous stage:
Prepare the crumb crust
Next stage:
Prepare the cheesecake filling
Then:
The final steps to a sensational cheesecake
---
Now that you've learned how to prepare fresh pumpkin for an Easy Pumpkin Cheesecake, explore our delicious pumpkin recipes!