How To Roast Pumpkin

Once you learn how to roast pumpkin you can use this in all sorts of dishes from sweet pumpkin pies to rich full flavored savory pumpkin meals, sliced or chopped in salads or as puree in cakes, muffins, desserts and cheesecakes.

Roast pumpkin is sweeter than that cooked by boiling as the natural sugars are concentrated in the fruit and not diluted in water. The caramelized fruit adds depth and extra flavor and texture to this versatile fruit.
In this photo, the chunks of fruit have been infused richly with herbs and garlic in preparation for a savory pie.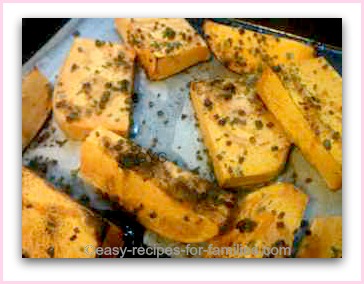 The Easy Way To Roast Pumpkin

The really easy way to roast pumpkin is to cut it into large chunks, spray with oil to prevent drying out and leave it to roast in the oven, remembering to always leave lots of room between the chunks.
Here is a photo of large chunks of pumpkin with the skin rinsed clean of dirt and soil.

Generally, keep the oven temperature about 400F/200C to 450F/220C and roast till the flesh is soft.  It will take about 40 minutes.
But the secret is to coat the pumpkin with lovely flavored olive oil before it goes into the oven to roast, keeping in mind to leave lots of room between the chunks so that the hot air gets to circulate evenly between the slices of pumpkin.
Scoop out the flesh or trim away the skin just like it photo. It's very easy now that its all soft and easy to manage.  Discard the skin.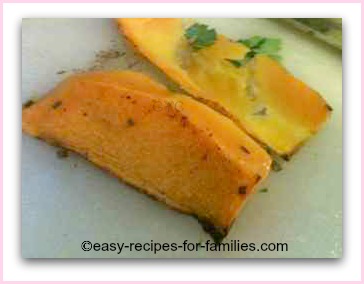 Roast pumpkin is deliciously sweet as the natural sugars are concentrated and caramelized on the outside.
Slice, chop or mash as required by the recipe.

Roast Savory Pumpkin

The procedure to roast pumpkin for savory dishes is identical with the exception of the addition of lots of herbs and/or diced garlic.

To give the savory roasted pumpkin a deep rich flavor, infuse with lots of woody herbs such as rosemary or thyme and finely diced garlic.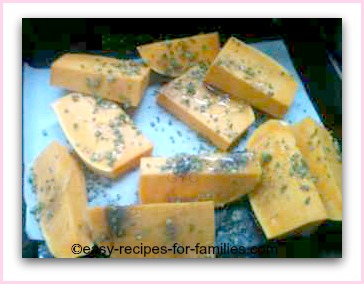 Here it is roasted.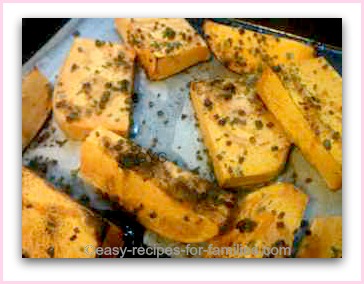 Slice or chop the roasted pieces as suits the recipe.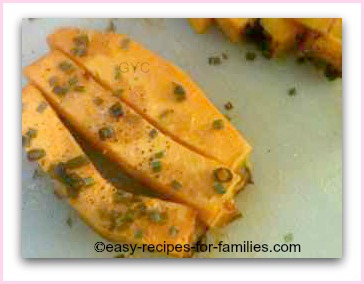 Once roasted, I store the herbed and flavored pieces in an airtight container in the refrigerator.
Here's an amazingly delicious and ever so simple healthy lasagna recipe with roast pumpkin as the filling.

---
Leave How To Roast Pumpkin to explore hundreds of sensational easy recipes and so healthy too!