OXO Salad Spinner

Try this OXO Salad Spinner to prevent fragile salad leaves from being bruised and going limp on washing.
This fun and easy tool starts spinning when you press the soft, non-slip button and has a built in brake to stop the spin to unload the salad.  The separate inner and outer bowls make for easy cleaning and can be used independently, and I've found the non-slip ring on the base keeps it sitting securely on the countertop.
You'll find a salad spinner an investment in your kitchen. The spinner will be used each time you make a healthy salad and it lasts for years.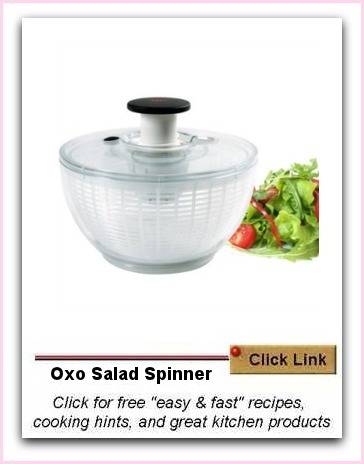 Click here for more details on the

OXO Good Grips 32480 Salad Spinner

About The OXO Salad Spinner

A salad spinner, essentially a salad dryer is an essential piece of kitchen equipment that uses centrifugal force to remove excess water from washed leaves.
To make a successful salad, dry lettuce leaves are essential.  After rinsing, lettuce, whether standard or fancy, tends to go limp when wet or bruises easily if tossed to dry traditionally in a colander.
That's why a spinner is an essential tool in any kitchen.  The OXO spinner is used to wash then dry the leaves without bruising and to keep them fresh and crips.

Salad dressing and oils, stick to dry leaves and you'll find dressing on wet leaves makes it look limp and unappetizing.

A salad spinner is usually made of plastic with an outer bowl holding an inner colander.  A crank mechanism fitted to the lid attached to the outer container, spins the strainer, causing the water to be driven out into the container.   I remember earlier salad tosser mechanisms which did not have the outer bowl and using them was like standing next to a wet dog shaking itself.
While this is an excellent kitchen tool and I regard this as a worthwhile investment, the downside is, it does take up a lot of storage space.

---