10 inch Wusthof
classic Knife

A good quality cook's knife like this Wusthof Classic Knife is a must in any kitchen. Invest in quality as it'll last years.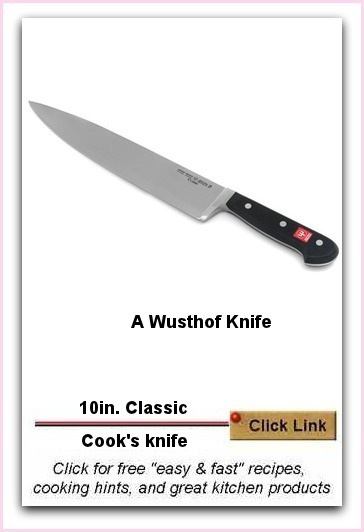 Click Here For More Details

Wusthof 10-in. Classic Cook's Knife.
Always Buy The Best
Get The Wusthof Classic Knife


OK, you all know that I'm an advocate for minimalism in the kitchen. i don't believe in having lots of equipment as I avoid anything that requires too much washing up, and that's the key to my easy recipes.
Only ever use the best equipment
Only ever eat the best quality produce - you are what you eat

Don't waste time in the kitchen. We all have better things to do
A good heavy cook's knife is an absolute basic item and saves you heaps of time. What I can't stomach are little flimsy knives that warp or wobble and those that forever require sharpening.
So, go for one like this German branded Wusthof classic knife.
Why the 10in Knife?

A longer well balanced 10 inch knife means you get better leverage when slicing harder vegetables and when chopping quickly, you're able to chop more vegetables in one go.  The heavy quality steel means it stays sharper longer - again, less wasting of time. 
Ours has lasted over 35 years and it is still in great condition. As a cook, you simply cannot do without a decent quality classic knife.  Our classic knife does the rounds from preparation to carving roasts and presents beautifully at the table too.
Care: It's an absolute No-No to put your knives in the dishwashing machine.  Gently handwash please!
Review of the Wusthof Classic 10 Inch Knife

Burt Wolf, award-winning and highly-respected journalist, has tested and approves this product.  Here's his review.
This is an exceptional knife one that many professionals are pleased to own. It's 10" gently-bowed cutting edge supplies enough razor-sharp surface to make short work of mincing herbs or julienning carrots while its heft provides ample power for quartering chickens or halving lobsters. Each piece is hand-forged in 38 manufacturing steps by skilled craftsmen. The high-carbon stainless steel blades are hardened to maintain a sharp edge. It's visible tang, like a Formula One's spoiler, ensures a beautiful balance.

Wusthof's newest state of the art technology incorporates a new computer controlled method for putting the edge on Classic knives. This technology allows for an exacting edge from the tip of the knife down to the heel of the knife. With this newer precision, the knives are made sharper to 14 degrees per side for a total of 28 degrees. The knives are now sharper and this refinement increases the sharpness retention because exacting angles and edges last longer than edges sharpened by hand. The result is a knife that is 30% sharper and the ICP (Initial Cutting Performance) lasts twice as long.


---