OXO Measuring Cup

What do I like about the OXO measuring cup?
The angled feature makes for easier reading
The Good Grips non-slip handle

Cleaning is quick and simple and it can go in the dishwasher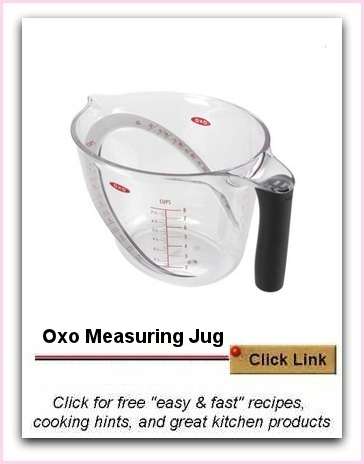 Click here for more details

OXO Measuring Cup - Good Grips 8 Cup Angled Measuring Cup
OXO Good Grips 3-Piece Angled Measuring Cup Set
Now, as you know, I am all about creating delicious meals and treats with the fewest possible steps, so I use only equipment that saves time.  Try to select equipment like this with clear markings and a large capacity.
So, Why The 8 Cup OXO Measuring Cup?

I have one and I find the angled feature makes it much easier to read and saves time.  The patented angled surface means the markings can be read by looking directly down into the cup, so you get the measured amount of dry or liquid ingredients right the first time. There's no wasting of time, filling and refilling, checking and adjusting ingredients.

The plastic material is super clear and the markings a high contrast color.
The measurement denominations are in cups, ounces and milliliters.
I've found the patented Good Grips handle which is soft and non-slip means you can use it securely and with a firm grip.  It's less likely to have spills in the kitchen.
I prefer always, to use a larger volumed measure. This 8 cup capacity OXO product means quick doubling of ingredients. I often cook one for now and freeze another for later.

OXO products are convenient to keep clean and dishwasher safe.

Option of the OXO 3 piece measuring cups
Often times, you'll need to prepare various ingredients so my quick and efficient process is to prepare the various ingredients consecutively. So, I'd measure the flour in one measuring cup, top it with the sugar in the same cup.
Then, measure the milk in another measuring cup.
And use the third cup for measuring dried fruit, for example.
I would often use 3 measuring cups for the one recipe. It is so much quicker when all the ingredients are pre-measured before combining together.

Notification:
I may receive a small amount from the supplier should you purchase this item, however please be aware the cost will be the same irrespective of whether the item is purchased directly or via our store. 
Thank you for supporting us by purchasing via this site.
---
Delicious Meals and Treats | Scrumptious Cakes  | Our Store | OXO Measuring Cup