Easy Pasta Salad Recipes


Our easy pasta salad recipes are so easy to prepare and beautiful with the contrast of colors, that they are ideal as party food and as pot luck recipes.

Remember, to make your salad recipe taste even more delicious, present it beautifully on carefully chosen salad bowls. Whether for your family, preparing food for a party or for pot luck sharing, presentation is everything. 
People don't remember how it tasted, they remember how it looks.
An Easy Pasta Salad Recipe
Subtly Tangy With Rocket
This recipe makes 4 meal sized serves.

You'll need:

• 3 cups dried short pasta

• 2 cups sliced, deseeded black olives

• 1 small jar of artichokes, cut roughly, including oils (about 1 cup)

• 4 cups of rocket leaves

• 2 teaspoons of lemon juice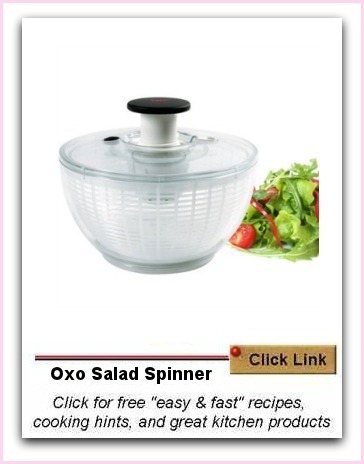 • Cook pasta in salted boiling water, in the usual manner till al dente' and it still has a crunch in the middle

• As soon as it's al dente', take it off the heat immediately, drain and refresh with cold water. This means, put the pasta under the cold water tap and let the water flush out the pasta. This stops the pasta cooking any further

• Drain the pasta and put into an attractive wide pasta bowl
• Rinse and spin the rocket in a salad spinner. Always use one to prevent bruising of the delicate salad greens

• Toss into the pasta all the ingredients except the leaves

• Combine gently with salad servers. Let the artichoke oils soak into the pasta.

• When about to serve, roughly tear up the leaves and toss them into the pasta
Tips From Easy Recipes

Don't you love an easy pasta salad recipe like this...easy, healthy, looks amazing, tastes sensational!
These pasta salads make a wonderful healthy lunch, but I serve them as food for a party or bring them along as a pot luck dish.
This salad looks attractive with the contrast of the black olives and fresh green leaves against the background of beige pasta and light green artichokes and makes a wonderful contribution as a pot luck recipe as well, ideal to serve as food for a party.
Vary these easy salads by experimenting with flavors and colors. A good substitute is to add roughly chopped vine ripened tomatoes, deep red and full of flavor, in place of greens.
---
Leave Easy Pasta Salad Recipes to explore for hundreds of sensationally delicious easy healthy recipes that will have the family running home to dinner!