Pumpkin Cake Recipe

This delicious moist pumpkin cake recipe is made without butter and just 5 ingredients.

Talk about simple!


Rating:
Very Simple
Hands-On Time:
15 minutes
Hands-Off Time:
35 minutes
Steps:
3
Ingredients For A Simple Moist Pumpkin Cake
Equipment: Silicone Bakeware
Self Raising Flour
Pumpkin
Rice Bran Oil
Egg
Sugar
3 Steps For This Recipe - A Moist Delicious Pumpkin Cake
Step 1:
Prepare the pumpkin for the pumpkin cake.
Cut the washed, trimmed and de-seeded pumpkin, into chunks.
Boil the pumpkin in water with two generous tablespoons of sugar.
When cooked, drain away the surplus water and let the pumpkin cool. Don't mash it. You want whole chunks in your cake.
Step 2: Make The Cake Batter
Before you start, turn the oven onto preheat at 360F/180C.
Combine all the ingredients in a roomy mixing bowl. If you don't have one, a large saucepan works just as well.
So, just place together the:
oil
flour
pumpkin - don't mash it
sugar
beaten eggs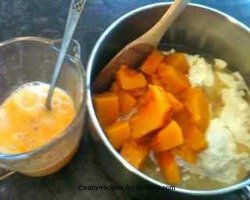 Mix together well with a wooden spoon.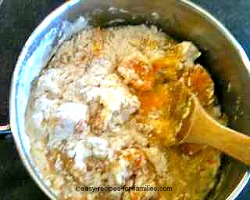 Combine it all so that the dry ingredients are well mixed in with the liquid egg. The batter will look more moist and the pumpkin will break up a little. That's fine, but try to keep some chunks of pumpkin through the batter.
When it is well combined, the batter looks thick and smooth and it's ready to baked.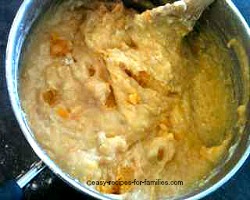 Pour the batter into a non-stick silicone bakeware.
Step 3: Bake
Bake for 35 - 40 minutes in a
preheated
oven at 360F/ 180C.
Here it is just out of the oven!
Just beautiful!
Test it with a cake tester or skewer. When the skewer comes out clean, the batter is cooked and it's ready.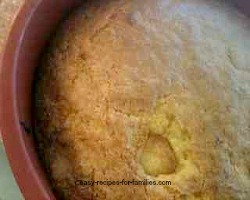 Let it cool on the cake rack for 10 minutes.
Then plate it.
Hasn't this pumpkin cake recipe turned out just gorgeous! ...and it tastes divine.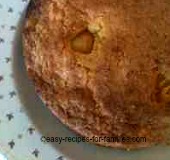 This Goes Beautifully With...
This delicious cake is healthy as it's not made with butter. While I love butter and there is no substitute for the taste of real butter, the fact remains unsaturated vegetable oils are much better for us as it does not have all that bad cholesterol.
Serve this easy cake for afternoon tea with other delectable treats made from easy recipes such as this
heavy moist and very rich chocolate fudge brownie.
Makes 1 cake
Just Add
Prepare
• 2 cups cooked pumpkin

• 2 tbs sugar in water

• 8 fl oz/250ml rice bran oil

• 1 cup sugar

• 1 1/2 cups self-raising flour

• 4 eggs, beaten




• Preheat oven to 360F/180C

• Trim and de-seed the pumpkin. Cut into chunks

• Boil the pumpkin in sugared water till very soft

• When the cooked pumpkin is cooled, start making the cake batter

• Into a large mixing bowl or saucepan, add all the ingredients all at once and combine

• Keep stirring to combine the dry ingredients with the liquid of beaten eggs

• The pumpkin will break up, that's fine but try to keep some bits whole

• Spoon into a non stick cake tin

• Bake for 35 - 40 minutes


Allow to cool for 10 minutes before plating.
It's just such a lovely cake and perfect to serve to visitors and the kids will love this cake for their lunch boxes.
Tips
Use non stick bake ware or line with non stick baking paper, so that the pumpkin cake can be removed easily without sticking to the cake tin
Pumpkin absorbs the flavors around it, so I cook the pumpkin in sugared water the evening before and I let it steep in the syrup overnight. The result is a lovely sweet furit in your pumpkin cake.
Rice bran oil is a high temperature oil and suitable for baked goods.
~~~~~~~~~~~
---