How To Cook Pumpkin
This is how to cook pumpkin so that it has the right texture and flavor for the very simple and delicious pumpkin olive and cheese bread.

This is another tutorial in our series of "how to cook" super easy recipes.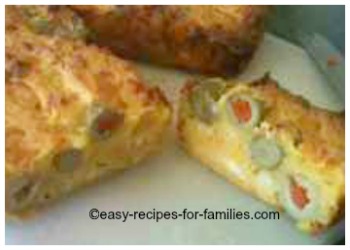 How To Cook? First Prepare The Fruit
First of all, prepare the fruit. To remove the thick skin, it's easiest to firstly cut it up into manageable sizes.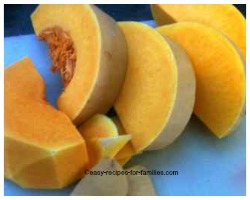 Remove the seeds and wash the pieces. Then cut the fruit into chunks.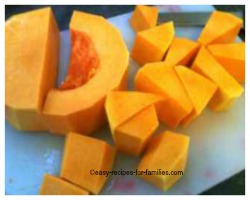 Place the chunks into a saucepan, with 3/4 cup of salted water.
Boil till cooked.
The cooking times and amount of water required will vary depending on the variety of pumpkin.
Take care to top up the saucepan with more boiling water, should the pan run dry. It is common to boil the pumpkin in lots of water but I prefer the absorption method so as to retain the full flavor and none of it is lost in the excess discarded cooking water.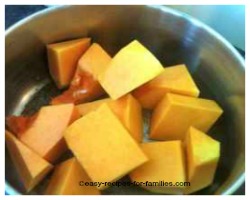 Next Step In How To Cook? Season The Cooked Pumpkin
When it is very soft, drain it and season with finely diced onions, salt, pepper and about a teaspoon of cumin seeds.
Cumin seeds is a perfect pumpkin spice.
Add freshly ground pepper as suits your taste.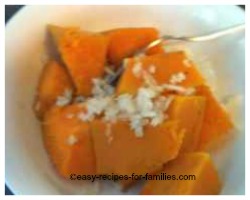 How To Cook? Mashed
Here it is, seasoned and mashed with a fork. It's now ready to be combined with the other ingredients to make
pumpkin bread
.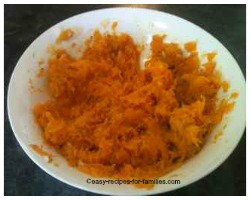 Once you've completed this tutorial, check out our other tutorials in the
"How To Cook" series
including an incredibly delicious
homemade pumpkin pie recipe.
---
Discover